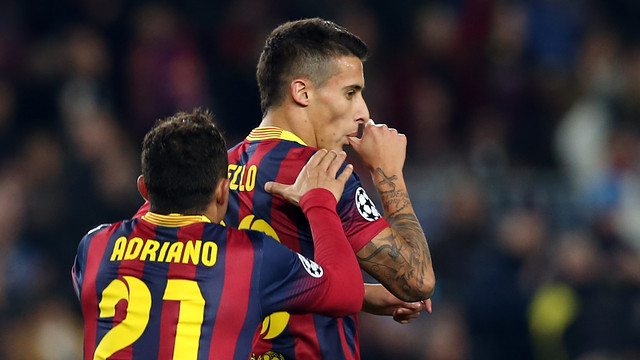 The last goal in the 6-1 win adds yet another player to the Barça goalscorers this season
Pedro takes his tally to 10 goals this season, three in the last two games
The win over Celtic threw up plenty of goals and lots of stats. Here are the highlights:
Gerard Piqué scored the 1,000th Barça goal in international competition. It was also the central defenders second goal this season. He scored the other one against Ajax, also at the Camp Nou.
Sergi Roberto was in the starting line-up for the second consecutive game against Celtic, having started against Cartagena last Friday in the Spanish Cup.
It was also the second game where Pedro, Neymar, and Alexis were together in the starting eleven. The previous match was Barça v Granada (4-0).
Xavi and Busquets made over 100 passes against Celtic, with 139 and 108 respectively. The Celtic player with most passes was Lustig, with 40.
Piqué, with 11, won most balls in the final game of the group stages of the Champions League.
Pedro has scored three goals in the last two games, after scoring two against Cartagena. He's the second player to have scored in three competitions (League, Champions League, and Spanish Cup) this season. Cesc Fabregas has also achieved the feat.
Pedro has scored 10 goals this season, the same number he scored in the whole of last season.
First Neymar hat-trick in a Barça shirt, including his first goal in this year's Champions League. He now has eight goals this season.
Neymar now has 10 goal assists to his credit, and only Cesc Fàbregas has more.
Tello scored his first goal this season in the 6-1 win, and after returning from injury, becomes the thirteenth different goalscorer this season.
Dongou made his debut in the Champions League. He came on in the 80th minute for Neymar Jr, his second first team match, after coming on against Cartagena last Friday, where he also scored.
Wednesday's match was the first time this season that Iniesta, who was on the bench, didn't play a single minute. Before that he had only missed the Cartagena match through injury.