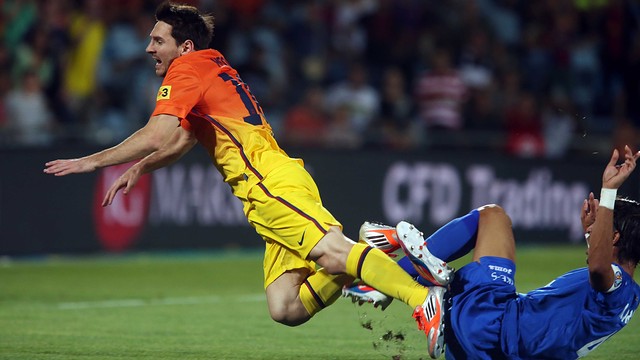 Whenever FC Barcelona have won at Getafe, they have always gone on to win the league title
The last three times they failed to win La Liga, they also failed to win in Getafe
Games away to Getafe
2012/13: Getafe 1-4 FC Barcelona (Champion)
2011/12: Getafe 1-0 FC Barcelona
2010/11: Getafe 1-3 FC Barcelona (Champion)
2009/10: Getafe 0-2 FC Barcelona (Champion)
2008/09: Getafe 0-1 FC Barcelona (Champion)
2007/08: Getafe 2-0 FC Barcelona
2006/07: Getafe 1-1 FC Barcelona
2005/06: Getafe 1-3 FC Barcelona (Champion)
2004/05: Getafe 1-2 FC Barcelona (Champion)
Maybe it's just coincidence, or maybe there's something more to it. But since Getafe were promoted nine seasons ago, Barça have beaten them at the Coliseum Alfonso Pérez six times. Each time they went on to win the league. That may not seem too unusual. After all, Barça have won the league more often they have not over the last decade. However, the odd thing is that the three occasions when they failed to lift the championship trophy were also the only three seasons when they failed to win away to Getafe.
Talisman?
In 2004/05, Barça won La Liga for the first time in five seasons. It was also Getafe's first season in the first division. FC Barcelona won 2-1 away to them with goals from Rafa Márquez and Deco and ended the season four points clear of second placed Real Madrid. The 2005/06 season followed a similar script. A 3-1 win at Getafe and another league title.
Bad omen not to beat Getafe
But the worrying thing from an FCB point of view is that if the Catalans don't win at the Coliseum, then the league title has a habit of going elsewhere. In the 2006/07 season, they drew to the Madrid based side 1-1, the only goal scored by Xavi Hernández and ended up missing out on the league title due to Real Madrid, who finished with the same number of points, having a better head-to-head record. Something similar happened a year later, with Barça losing 2-0 at Getafe and again missing out on the trophy, this time finishing third behind Real Madrid and Villarreal. The last time FCB failed to win the league, 2011/12, was also the last time they failed to win at Getafe, that time losing 1-0.
The encouraging thing is that Barça have had an excellent run of results away to Getafe of late. They won 1-0 in 2008/09, 2-0 in 2009/10 and 3-1 in 2010/11, winning the league each time, and last season under Tito Vilanova they stormed to 4-1 victory and finished the campaign with a club record of 100 points.
If all this is more than mere coincidence, then there's a lot hanging on this Sunday's result in Getafe!