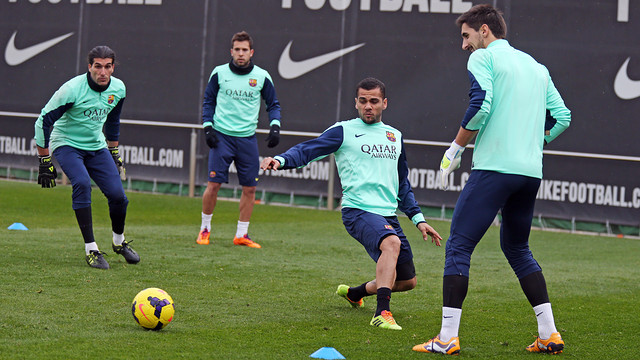 Tata Martino prepared for the Getafe match with his full available squad, including Dani Alves
Neymar, who is suspended on Sunday, didn't train as he has already started his Christmas vacation
Happy birthday Alexis!
December 19 is Alexis Sánchez's birthday. He is 25 years old today. And the team never forget a player's birthday and so today's session commenced with congratulations all round for the Chilean striker.
Tata Martino and his squad have started preparing for the last game of 2013 after enjoying Wednesday off. On Sunday, Barça are away to Getafe (17.00) in game for which Neymar is suspended, for which reason Martino has allowed the Brazilian to start his Christmas holiday early.
The rest of the players trained this morning at the Ciutat Esportiva. They included Dani Alves, who completed the full session and is almost fully recovered from his soleus injury. Xavi, meanwhile, worked out in isolation, while reserve team player Dongou joined the first team for today's session.