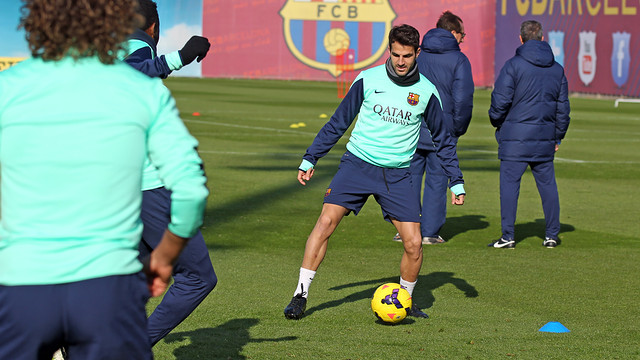 Tata Martino recovers Cesc Fàbregas but Adriano misses the game through suspension
THE SQUAD
Pinto, Olazábal, Montoya, Piqué, Fàbregas, Puyol, Xavi, Pedro, Iniesta, Alexis, Neymar Jr, Mascherano, Bartra, Sergio, A. Song, Jordi Alba, Tello & Sergi Roberto.
For Saturday's match with Villarreal at the Camp Nou (20.00) Tata Martino has named a list of 18 players, including Cesc Fàbregas, who missed the midweek Champions League fixture through suspension. But Adriano sits this game out after collecting his fifth yellow card against Athletic Bilbao.
There was a training session this Friday morning at the Ciutat Esportiva involving all the first team squad. Dani Alves, however, worked out in isolation has he battles to recover from trouble with his right soleus.
The team will train once more before taking on Villarreal. That session will be on Saturday morning at 11.30 in the Camp Nou. After that, the players will be resting in Hotel Princesa Sofía before returning to the stadium for the game.