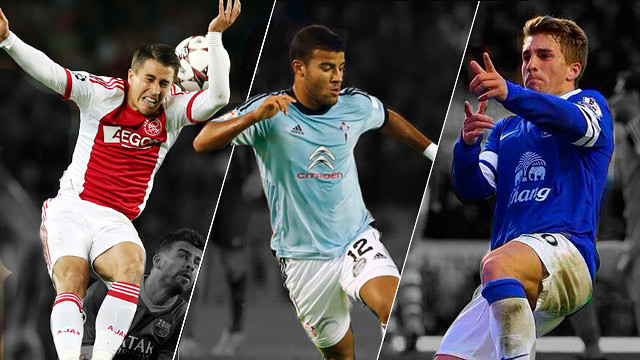 All three have featured in more than 10 league matches: Rafinha, 16 Liga BBVA games; Bojan, 10 Eredivisie league matches, and Deulofeu, 12 Premier League games
Rafinha is a key player for Luis Enrique; Bojan is back to his goalscoring ways and Deulofeu just picked up a hamstring injury
The three first team footballers on loan this season, Rafinha Alcántara (Celta), Bojan Krkic (Ajax) and Gerard Deulofeu (Everton) have had different experiences in their respective teams. Rafinha continues to be crucial for Luis Enrique, Bojan is back to his goalscoring ways, and Deulofeu picked up an injury that's temporarily halted his development.
Rafinha (Celta): Rafinha, a basic fixture in Luis Enrique's tactical plans, has played in 16 of Celta's 17 league matches. He missed the game against Málaga due to suspension. He's started in 12 games and he played the full 90 minutes on 8 occasions. In the Cup, Rafina featured in the first leg of the round of 32 against Athletic Club. The Basque team went on to eliminate Luis Enrique's men.
Bojan (Ajax): Completely recovered from his injury, Bojan returned to the pitch earlier this month after being sidelined for two months. He started the match against ADO Den Haag (0-4) on the bench, but he came on as a substitute and scored Ajax's fourth goal. One week later he scored Ajax's fourth goal against NAC Breda (4-0). In total, he's played in 11 league games, 7 as a starter. When it comes to the Champions League, he only featured against Barça at the Camp Nou (4-0) and against Milan at the Can Siro (0-0). He started both matches. Ajax, who are level with Vitesse on 37 points at the top of the Eredivise, will play in the Europa League after they were eliminated from the Champions League.
Deulofeu (Everton): While Bojan has completely recovered from his injury, Deulofeu is just beginning his recovery process. In the league match against Fulham he was forced to abandon the pitch due to a hamstring injury on 40 minutes. Deulofeu, who visited with his Barça teammates a couple of days ago, will recover in Barcelona. So far he's featured in 12 league games, 2 as a starter, and he's becoming one of Robert Martínez's go-to players. He played a total of 180 minutes in both the Cup ties for Everton – they were eliminated in the second round by Fulham. In the first round he scored the match winner in the added time (2-1) against Stevenage. The Toffees are currently fourth in the Premier League.