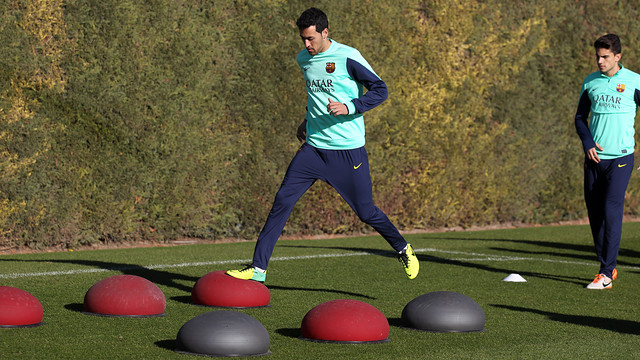 The players enjoyed a light training session this morning after the win against Villarreal ahead of Tuesday's Cup match
Dani Alves warmed up with the group while Piqué missed training due to illness

The Barça squad trained on Sunday morning in the Ciutat Esportiva, just a few hours following the 2-1 win against Villarreal.
On Tuesday evening (Camp Nou kick-off 10 pm), Barça will take on Cartagena in the Camp Nou in the second leg of the round of 32 of the Spanish Cup.
Dani Alves was able to warm up with the rest of his team-mates. However, Gerard Piqué has picked up a stomach bug and received treatment at home. His availability for training on Monday will be decided later.
The senior players were joined by Joan Àngel Roman and Babunski, from the reserves, plus Ebwelle and Kaptoum, from the youth squad. The next session will be on Monday morning.