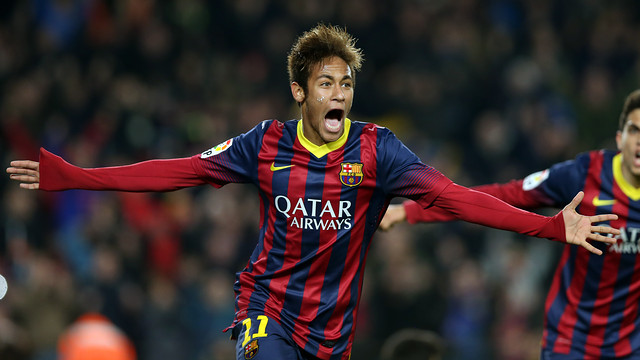 Iniesta, Montoya, Pinto and Alex Song all full of praise for the Brazilian after a great week
Neymar has bagged five goals in a week, with a hat trick against Celtic and a brace against Villarreal.

10 goals and 10 assists
With his five goals last week, Neymar has taken his total for the season to 10 – 6 in the league, 3 in the Champions League and 1 in the Spanish Super Cup. Neymar has also made 10 assists – a combination that has made him a reference point in Martino's attacking line up
FC Barcelona striker Neymar Jr has put to bed recent rumblings in the press about his lack of goals with five goals in the team's last two games – a hat trick against Celtic and two more against Villarreal – and his team mates were quick to get behind the Brazilian after the match on Saturday
Midfielder Alex Song explained: "he's a humble kind of kid and he is increasing his importance in the group. He's getting better all the time and the goals are naturally coming along . He's really happy here and he, like the rest of us is so looking forward to playing together with Messi again". Andrés Iniesta was also keen to laud the Brazilian and stress how important he was to the team, either out on the wing or playing as a false number nine: "if he gets close to the box, he can turn a game. It's better that he plays in the area and he feels comfortable, without having to get past three or four defenders".
Pinto: "he's started to get decisive goals"
Keeper José Manuel Pinto stressed the way that the striker has been improving, particularly with his passing: " you can't question a player of his quality. He's really coming on and he is now a key part of the team. He's been making a lot of assists and now he's also started to get decisive goals". Martin Montoya also got behind his teammate, claiming: "he really is very good. The media have been saying he couldn't score, but he's answered them with the goals in his last two games and if he keeps it up he'll be fighting for the pichichi. He's happy here and helping us a lot – it's as if he's been a part of the group for a long time".