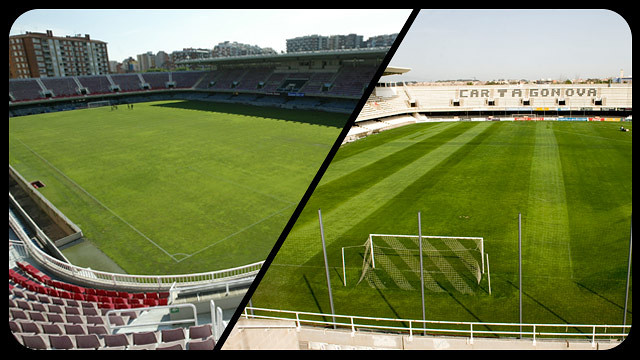 In 1986, Cartagena asked FC Barcelona for a copy of the plans of the Miniestadi in order to build an identical stadium of their own
Barça's Miniestadi is much admired in the football world for its modern look and facilities. In fact, both the inner and outer structures of FC Cartagena's own stadium is a direct copy of the Mini.
FC Barcelona's Miniestadi was opened on November 23, 1982. It was conceived by architect Josep Casals and construction engineer Ramon Domènech. With a capacity of 15,276, this dynamic venue was designed for use by the club's reserve teams, and caused such an impression that it was soon being dubbed the 'Bombonera of Les Corts', after the famous Boca Juniors stadium in Buenos Aires and the district of Barcelona in which the Camp Nou is located.
Inspiring Cartagena FC
In 1986, Cartagena FC decided it was time to replace their old Almarjal stadium, where they had played since 1925. The Murcia based club got in contact with FC Barcelona and asked for a copy of the plans of the Miniestadi, as they felt Barça's second stadium was exactly the kind of thing their own club was looking for. Barça had no problem with this, and so it was that the Mini ended up having an identical twin in Cartagena. The first stone was laid on November 23, 1986 and the first game was played there on February 7, 1988 in Division 2A against Burgos (0-0).
Second match against Barcelona Atlètic
Cartagena were at home again the week after, on February 14, this time against Barcelona Atlètic, with Barça's second team getting the peculiar opportunity to score the first official goal in a stadium where they naturally felt oddly at home. However, this game also ended without score, and although a point on the road was by no means a bad result for the side coached by Lluís Pujol, they left with the peculiar feeling that they had dropped two points at home, so strong was the sensation of playing in what felt like their own ground.
FC Cartagena move into Cartagonova
Cartagena FC was founded in 1919, a very old club by Spanish standards, but in 1995 it folded following a major financial crisis. Seven years later, it was refounded and currently plays in the Third Division, playing matches at the Ciudad Deportiva Gómez Meseguer. In the meantime, however, and in the wake of the disappearance of the historic club, a new one was set up in the city, originally called Cartagonova FC. In 2003, they changed their name to FC Cartagena, and continue to play games at the Cartagonova, the identical twin of the Miniestadi.