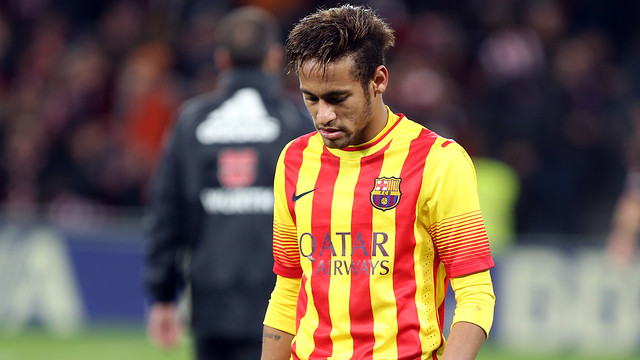 A 70th minute goal from Muniain condemns Barça to their first defeat of the league season
At the new San Mamés, FC Barcelona have been beaten for the first time in this league season. Four days after going down to Ajax in the Champions League, Gerardo Martino got another taste of defeat as a solitary goal from Iker Muniain split the sides in the 70th minute of a game that could have panned out very differently had Barça made better use of their several chances in the first half hour.
But despite the defeat, FC Barcelona stay top of the league table, although now only on goal difference. They have the same 40 points as Atlético Madrid, who beat Elche on Saturday, but have a +33 goal difference compared to Atlético's +31.
25 minutes of dominance
The game at San Mamés was as intense as everyone had predicted. Barça came out strong, and looked to have learned their lesson from what happened in Amsterdam. The possession was all theirs, and so were the chances, with Iniesta and Neymar coming especially close to opening the scoring. However, Neymar seemed to be having trouble maintaining his balance, to the extent that he even opted to change his boots.
Bilbao improve
But from the 25th minute, things changed, and not for the better from a Barça perspective. The visitors no longer seemed to be in such comfortable control of the game, and Athletic started creating chances of their own. Even so, not too much was required of Pinto, and the half ended as it had begun. 0-0.
Controversial restart
Neymar was the protagonist of the first few minutes of the second half. First, he had a golden opportunity to score, but sent the ball into the clouds. Shortly after, Cesc threaded the ball beautifully through to the Brazilian, who was clearly in on goal when Iturraspe pulled him down on the edge of the area. The Barça players protested that the yellow card produced by the referee should have been red, but all their fury earned them was a booking for Busquets. Neymar himself took the free-kick, which narrowly skimmed wide of the post.
Muniain makes it 1-0
It was an incident that could have changed the course of the match. Instead of being reduced to ten men, Athletic gained in confidence, and spurred on by their famously vocal home support, started producing more and more danger, with Pinto being called upon three times to save potentially devastating headers from Toquero. Barça started making more and more uncharacteristic errors, and eventually paid the price when a Susaeta cross from the right was tucked away by Iker Muniain. 1-0, and Barça's unbeaten league record was in serious danger of coming to an end.
Gerardo Martino reacted by sending on Sergi Roberto and Pedro, but the last twenty minutes saw Barça do very little to threaten the Bilbao defence. Athletic were able to celebrate a famous victory that lifts them up to fourth and a potential Champions League place, while although FC Barcelona have now equalled the all-time Liga record for weeks on top of the league table, they are now only in that position by virtue of a slightly better goal difference than Atlético Madrid.