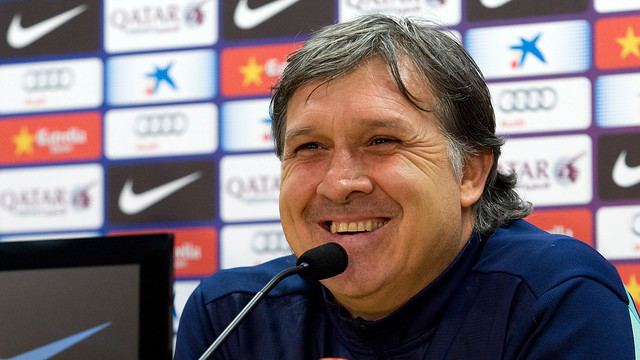 The FC Barcelona manager not only wants three points to ensure the side stays top over the new year, but is also looking for a solid performance
He'll be meeting Messi while he is Argentina on holiday and hopes his star striker will be ready to play again soon
Barça, who are almost neck and neck with Atlético Madrid at the top of the table, end 2013 with a league match at Getafe. There is a lot of psychology attached to the game, and manager Gerardo 'Tata' Martino told the press today that "it is very important not just to end the year in first place, but also to put in a solid performance … That will be ideal way to raise our spirits before the holiday season".
Busy week
Martino preferred to avoid discussing the many non-footballing matters that have affected the club in recent days. "My worry is the team," he said. "I'm not used to being distracted by things that have nothing to with the sporting side of things. As Víctor (Valdés) said, we have to stay solid inside and ignore what is being said elsewhere".
But he did comment on claims that he will not be staying at Barça any further beyond the current season. "I am very happy at this club and in this city, I like the way the team plays" he said. "The future is not something I can guarantee, because every three days things change depending on results and performances. If I stay on as Barcelona manager, it'll be because I have done things very well".
Meeting Messi
Martino also spoke about his trip to Argentina for a short festive break, where he plans to meet up with Leo Messi. "After Christmas he'll be training in Rosario and I'm sure I'll go and see him" he explained. "But in any case, we are fully informed about his progress. He'll be in perfect condition to rejoin the team in the new year".
The manager was also pleased to be able to comment on the renewal of Iniesta's contract, someone he describes as "a franchise player." He also commented that Xavi Hernández has been left out of the squad to face Getafe because "there is too much risk attached. In decisive circumstances we'd have selected him, but we chose not to".