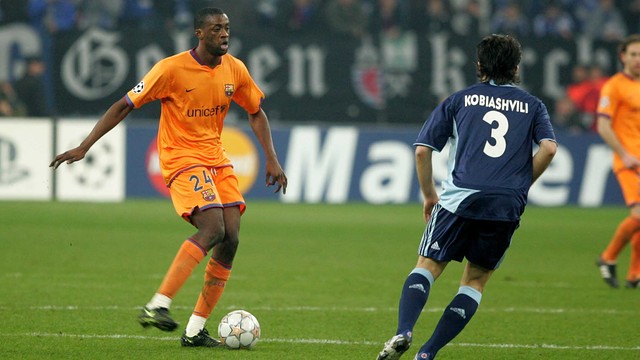 Barça's opponents in the last 16 of the Champions League have nine familiar faces for Barça fans in their team
The two games between Manchester City and FC Barcelona to be played in February and March offer a whole series of attractive aspects. Manchester City are a top class side stuffed with world class figures – many of them familiar faces to the Barça fans. Below, we look at some of the facts and figures surrounding the game:
Manchester City were the team FC Barcelona invited to play in their 75th anniversary game in 1974 and Barça themselves were the guests for the inaugural game at City's new ground in 2003.


---
Així, Puyol, Xavi and Iniesta have already played against Manchester City.


---
Touré Yaya played for Barça between 2007 and 2010, when he signed for City.


---
City have eight players who've figured in the Spanish League -Demichelis, Zabaleta, Navas, Silva, Javi García, Touré Yaya, Agüero and Negredo.


---
Coach Manuel Pellegrini also has plenty of experience in Spain – he was boss of Vilarreal from 2004 to 2009, Real Madrid in the 2009/10 season and Malaga from 2010 to 2013.


---
Pellegrini and Martino have never faced each other, though when the City boss was in charge of Argentina (2000-03) Barça's manager was the Paraguay coach.


---
Manuel Pellegrini's teams played against Barça 18 times in the league, winning 4 games, drawing 2 and losing the other 12.
---
Barça B have two plaiyers who started out in the City youth teams – Denis Suárez and Joan Àngel Roman.