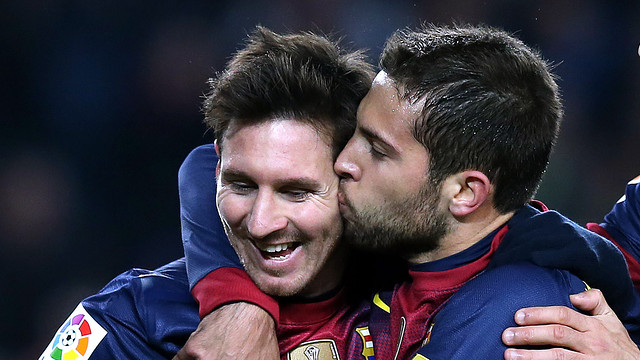 This Thursday, the French paper announced its team of 2013, and there are two players from FC Barcelona in the eleven
Leo Messi and Jordi Alba are in French sports paper l'Equipe's team of 2013, which was announced today Thursday. They are the only FC Barcelona representatives in an XI dominated by Champions League winners Bayern Munich, with five players: Neuer, Lahm, Schweinsteiger, Müller and Ribéry. The rest of the team is made up by Vincent Kompany (Manchester City), Thiago Silva (PSG), Touré (Manchester City) and Cristiano Ronaldo (Real Madrid).
This is the second accolade of the week for Leo Messi, who was named player of the year on Tuesday by English newspaper The Guardian. Messi, along with Ribéry and Ronaldo, is also in the running for the Ballon d'Or, the winner of which will be announced on Thursday January 13. That same day, we'll find out who is in the FIFA FIFPro World XI, with Messi and Jordi Alba joined as FCB candidates by Piqué, Alves, Neymar, Xavi, Iniesta, Sergio and Valdés.
Messi was also named in the UEFA team of the year along with team-mate Gerard Piqué.