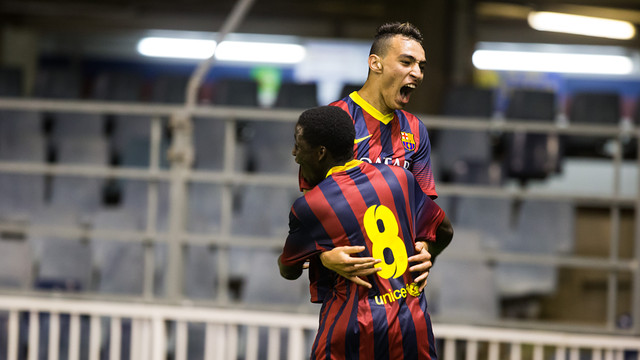 The match is scheduled for the 18th, 19th, 25th or 26th of February
Last 16 matchups
CSKA Moscou-PSG
Atlètico Madrid-M. City
Chelsea-AC Milan
Real Madrid-Napoli
Benfica-Àustria Viena
Arsenal-Shakhtar Donetsk
Reial Sociedad-Schalke 04
FC Barcelona's Juvenil A team will face Copenhagen in the round of 16 of the UEFA Youth League. The team managed by Jordi Vinyals will host the Danish team at the Miniestadi on the 18th, 19th, 25th or 26th of February for the one-match tie.
It's worth noting that Barça reached this round of the competition after winning five and drawing one of their group stage matches. Copenhagen finished second behind Real Madrid in Group B, Juventus and Galatasaray were eliminated.

Quarter-finals at the Mini if Barça qualify
In the event of Barça progressing to the next round, they will face either Arsenal or Shakhtar Donetsk. The match would be at the Miniestadi on the 11th, 12th, 18th, or 19th of March.
The semi-finals and final will be held in Nyon, in a Final Four format. The semi-final will be played on April 1, and Barça could face Chelsea, AC Milan, Real Sociedad or Napoli.
The final is slated for April 14.