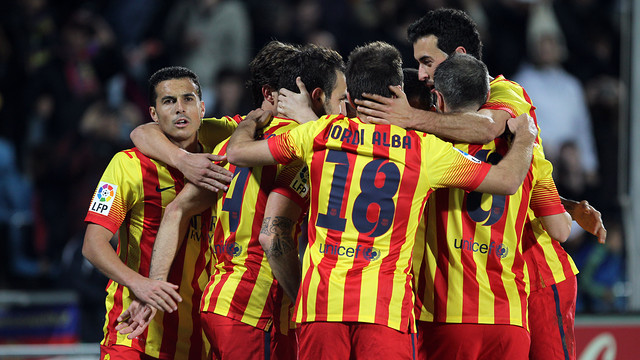 Injuries have prevented the two full backs from playing together since mid September
Against Getafe on Sunday night, Jordi Alba and Dani Alves shared the field for the first time in three months. Injuries have prevented the two from appearing together since the 3-2 win at home to Sevilla on September 14.
Sergi Roberto has started four of Barça's last five matches. Getafe was his first game in the league after two against Cartagena in the cup and one against Celtic in the Champions League.
Pedro has now scored nine goals away from home (three against Rayo, one against Betis, two against Cartagena and three against Getafe). He is Barça's top goalscorer on the road.
Pedro has equalled Messi as FCB's leading goalscorer. They now have 14 goals each, and the Canary Islander is Barça's top scorer in La Liga with ten goals.
Barça have won their last game of the year six times in a row (Villarreal in 2008, Espanyol in 2009 and 2010, Real Madrid in 2011 and Valladolid in 2013).
Whenever Barça have won away to Getafe (six times), they have gone on to win the league trophy.
This was the third time this season that Barça have come from behind to win. They did the same in the cup against Cartagena (1-4) and the league against Valladolid (4-1). The last time Barça came back from two goals down was away to Sevilla (2-3) in December 2012.
Sergio Busquets was booked for the fifth time of the season on Sunday and therefore misses the Elche match on January 5 against Elche through suspension.
Barça have now gone 55 weeks on top of the league table, although for the second week in row it is only on goal difference with respect to Atlético Madrid.