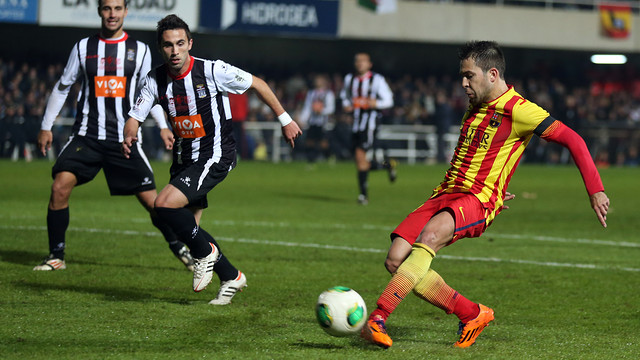 The left back returned to first team action 83 days after his injury against Seville
He completed 71 passes, recovered possession 9 times and almost scored

The cup game in Cartagena featured some great individual performances. Pedro scored twice and Dongou marked his senior debut with a goal. Meanwhile, Jordi Alba returned to first team action 83 days after picking up an injury in a league match against Sevilla on 14th September. In Cartagena, he made his sixth start of the season and was replaced by Martín Montoya in the 81st minute.
50 Barça appearances
After the match, Alba told reporters: "Physically, I am much better- I've learnt not to rush things and to look after myself better. I'm happy to be back and to have played 80 minutes". Over those 80 minutes, he completed 71 passes, recovered the ball 9 times and almost scored.
By pure coincidence, his comeback after injury also marked his 50th appearance for FC Barcelona, 32 in the league, 9 in the Champions League, 5 in the Cup and 4 in the Spanish Supper Cup. His record so far? 35 wins, 8 draws and 7 defeats.