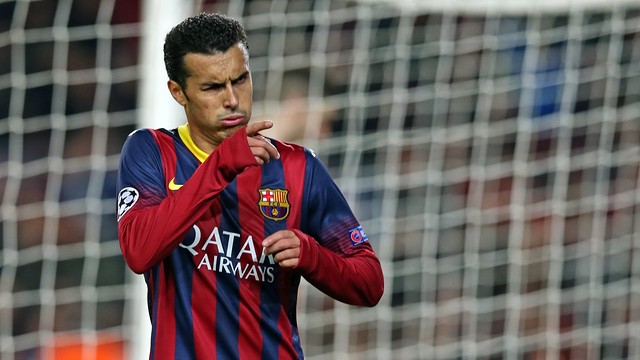 The Barça winger was very satisfied with his own, and the team's, performance in the two wins against Cartagena and Celtic
He really would like to avoid Manchester City and Arsenal in the draw for the knockout stages

Following the two consecutive wins against Cartagena and Celtic, with Pedro Rodriguez scoring in both, the Barça number '7' was the star on the Barça TV program 'El Marcador'. "We're on the right track" he said, and added that "The team is in good shape, physically fit, and ready to perform well in the games before Christmas". Pedro recognized that it was one of the best games of the season. "We kept the intensity high from start to finish" he said.
Comfortable, physically fitter, and confident
On a personal note, Pedro has scored as many goals as he did in the whole of last season. He was unable to hide his personal satisfaction, but in his usual modest way said: "I'm happy the way things are going, and being able to help the team". At a sweet moment for him in front of goal he admitted feeling "comfortable, physically fitter, and confident".
Finally, when the time came to choosing possible opponents for the last 16 round of the Champions League, Pedro was very sincere and pointed out two teams that he would certainly like to avoid: "It's fairly obvious that Manchester City and Arsenal are the strongest teams we might be drawn against, and let's hope we have a bit of luck and avoid those two".