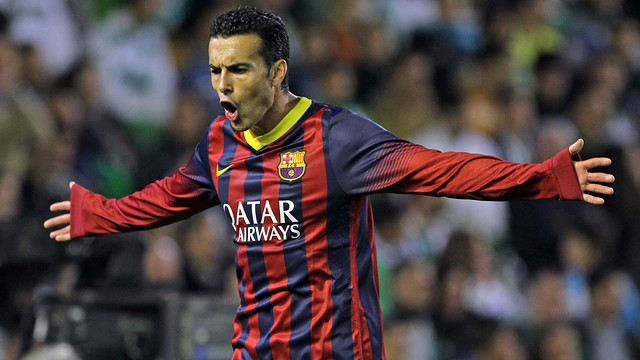 All the scoring stats so far this season
Pedro and Messi are the top scorers with 14 each

Barça's goals so far this season have been pretty evenly distributed with Pedro and Messi leading the way with 14, Neymar on 11, Cesc 9 and Alexis with 8 behind them.
· Pedro is the team's leading scorer in La Liga with 10, whilst Messi and Alexis have both scored 8, Cesc 7 and Neymar six.
· Messi is the top scorer in Europe with 6 of the team's 16 goals inteh Champions League. Neymar has also scored three in the Champions League.
·In the Cup Pedro scored 3 of the team's 7 goals against Cartagena, with Cesc , Dongou and Neymar each chipping in with a goal apiece.
· Barça have scored 73 goals in 27 games so far this season, averaging 2,7 goals a game.
· In contrast, the team have conceded just 19 goals at an average of 0,7 a game.
· In teh league,the team are averaging 2,88 goals a game (49 in 17 games), 2,6 in Europe (16 in 6 games) and scored seven in their two Spanish Cup games.
· Messi leads the goals per game stat, having bagged 14 in 16 games at an average of 0,88 a game and he is followed by Pedro at 0,5 (14 in 26 games) and Neymar at 0,48 (11 in 23 games).