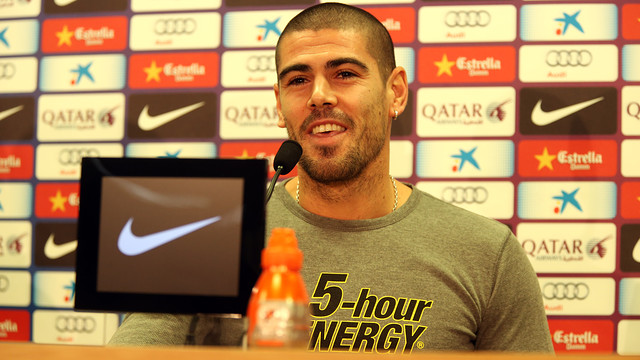 The goalkeeper said that "everything went faster than expected" and believes that he could be available to play the first game of 2014 "if the coach sees fit"
On his possible replacement in the nets, he said: "I've always said that I would be excited if it was a goalie brought up at the Club, but it's not up to me, the club and the coaches will decide that"
Victor Valdés recovery is on track. The Barça goalie, who was injured in a Spain match on November 19, acknowledged, at a press conference, that he would soon be able to play again: "I'm fine. It's been a few strange weeks for me because I've never been injured, but now we've got through two intense goalkeeping training sessions and everything went faster than expected. The latest tests show that I'm totally recovered".
The Barça keeper confessed that he is really keen to play again: "I am excited to be able to play again, and if all goes well, I may be able to play against Elche, if the coach sees fit". The Elche game is the first one in 2014, and will be played on January 5 at the Camp Nou (16.00). [[CITA_1]]. Víctor Valdés also spoke repeatedly about his future away from Barça. "The time is coming to start to look at things, but I haven't decided anything yet" he said. The goalkeeper stressed that, during the last four weeks, he's been focused on recovering from his injury and the decisions about his future team are being handled by his agent.
"For me the most important thing is to respect Barça right to the end. I won't make anything public during the season that may have a negative influence. What's important is that the team wins and we win the titles that we are hoping for" he added. [[CITA_2]] About possible candidates to replace him in the Barça goal, Valdés made clear his preferences: "I really hope that the Club finds the best way to sign the best goalkeeper for Barça. I've always said that I would love it if it was a home-grown keeper, but it's not up to me. The Club and the coaches will evaluate whether they can give an opportunity to someone within the club, like happened to me some years ago". Valdés refused to mention names and said only that "there are many good goalkeepers at the Club". [[CITA_3]] The keeper also referred to some of the latest reports in the media about FC Barcelona: "It does seem that there's some sort of outside campaign against Barça, and all the reports are negative. Even the Interior Ministry has been forced to deny some of the things, something I've never seen in 12 years as a professional".
In this regard, he believes it's important that everyone works with a common goal: "We all have to row in the same direction, both directors and players, and I hope the press will too". "We are on top and we're in a privileged position" he reminded everybody to end with.
The time is coming to start to look at things, but I haven't decided anything yet
I really hope that the Club finds the best way to sign the best goalkeeper for Barça
It does seem that there's some sort of outside campaign against Barça, and all the reports are negative