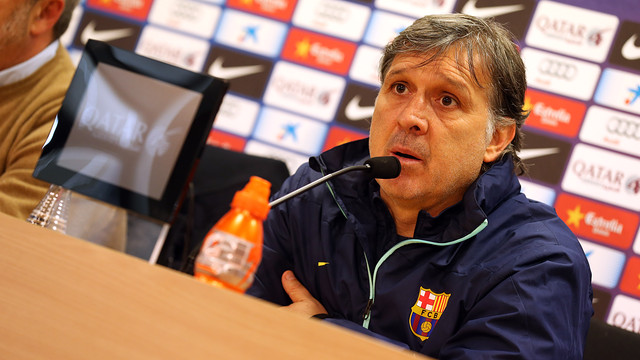 The Argentinian has told his press conference that he expects a difficult match against Villarreal, a team that "has players that can tip the balance in every position"
"I am saddened when the team plays badly and loses" he adds. However, "if a manager gives up after the first defeat of a team that has 80 matches to play, then he's not ready to manage at this level."
Gerardo Martino has spoken to the press today about Saturday's match at 20.00 against Villarreal. The Argentinian manager knows that this will be one of the hardest home fixtures of the season, because the visitors "play the same way at home or away. They are playing the best football in this competition and have players that can tip the balance in every position." But he has insisted that "I'm expecting Barça to play football of the very finest quality … We have to get the team playing at that kind of level, because that will give us a much better chance".
Four objectives
Martino explained that Adama and Dongou have returned to Barça B. "It is only normal for lads from the youth team or the B team to be called upon when we need them" he commented. "But when they're not needed, they go back to their own team. There is no point having them here if they aren't going to play. It has been important, not just for what they have done for the team, but also because of what they have learned while they were with the first team".
He also spoke about his most immediate targets with the team, saying that there have been four main ones this month, namely "to play better, to finish top of our Champions League group, to qualify for the next round of the cup against Cartagena and to end the year top of the table, which means winning against Villarreal and Getafe". So, there is still plenty to be done before Christmas, and Tata hopes to see plenty of fans at the stadium giving their support.
Finally, Martino spoke about the kind of things that go through his head when the team loses. "I am saddened when the team plays badly and loses" he says. However, "if a manager gives up after the first defeat of a team that has 80 matches to play, then he's not ready to manage at this level." He also commented that his opinion of Pinto is unchanged whether the reserve goalie plays or not, adding that "I think he's the kind of keeper you can trust and he fulfils every requirement in order to play"