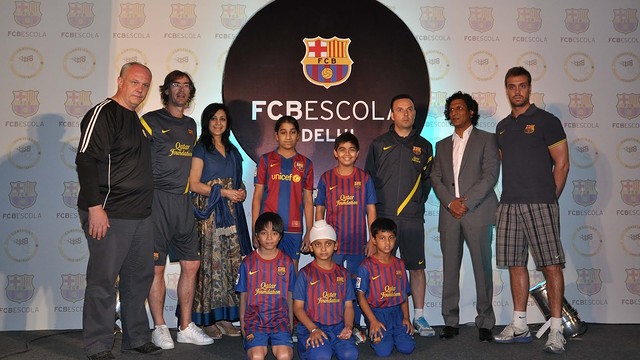 Two centres in Delhi, more than 3,000 children across the country and 30 coaches with the FCB seal, are the figures that go with this project.
FC Barcelona is the first football club to organise a nationwide project, via the FCBEscola.
After three years of hard work, FCBEscola in India is a reality. It was the most difficult challenge facing the FC Barcelona official school, which already has two centers in Delhi at full performance, after overcoming hundreds of obstacles, and is helping people to get to know football in a country where soccer is neither played nor followed on a grand scale.
1,300 million people, one club
Barça is the first football club to carry out a global project all over the country, a country with 1,300 million people, and where there is no tradition of football, or even sport in general. The most difficult, and most ambitious, challenge for FCBEscola has seen the light following many trials in cities like Bangalore, Mumbai, Dehradum, Raipur, Kolkata, Hyderabad, Goa and Delhi itself. To carry out all these activities and entrance trials, the training of FCBEscola coaches has been, and still is, ongoing, and currently has a coaching staff of 30 people.
Activities with over 3,000 kids

Currently, in the two centres that FCBEscola already runs in Delhi, there are about 200 children who have passed the entrance trials at the school, following different selection processes, with 1,500 children at each centre, to choose the best. FCBEscola has organized activities right across the country, with more than 3,000 children of differing level, helping them understand football and giving the children their first opportunity to play with the ball. Out of the 200 kids who regularly attended the FCBEscola in Delhi, two have already been selected for the India Under-15 side. Currently, FCBEscola in Delhi welcomes children up to 16-17 years of age.
Mass Presentation

The arrival of FC Barcelona to India, in the form of the FCBEscola, was an incredible event there, as could be seen at the official presentation of the new FCBEscola centres in Delhi, with over 200 media outlets covering the event. FCBEscola has made football popular in India since his arrival in the country.