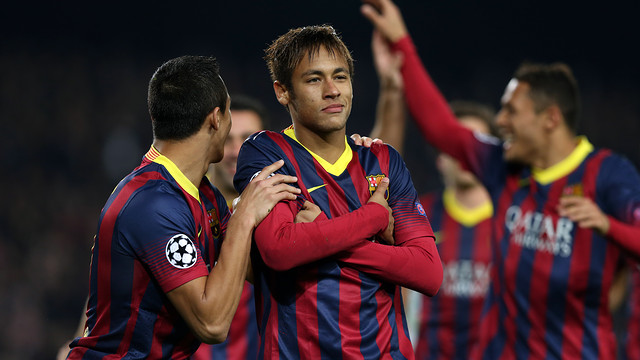 Barça have secured top spot in the group thanks to goals from Piqué, Pedro, Neymar (3) and Tello
The Brazilian was the hero of the night with an awe-inspiring display
Barça only needed a point to clinch top place in their Champions League group, but did much more than against a Celtic side that was only playing for pride but was instead played off the park by an intense, ambitious display from the Catalans. After going into an early 1-0 lead and with the win already as good as settled by half-time, Barça were able to play for the crowd and regain some lost confidence, with hat-trick hero Neymar on stunning form.
Straight down to work
It was two minutes before Celtic had even touched the ball at the Camp Nou. Barça were passing it around with ease, and were soon creating problem after problem for Forster to deal with. And that was how things would stay for most of the ninety minutes, as has been the case so often in the past against the Scottish champions, who as usual opted for a highly defensive game-plan. But this time, Barça broke the deadlock early doors. After just six minutes, an opportunist Piqué pounced on the rebound after Alexis had found himself one-on-one on the keeper. 1-0.
Barça in harmony
Barça had all the possession, and even though they were losing, Celtic preferred to keep it tight at the back and speculate with the occasional counter-attack or dead-ball situation. All this served to do was create a Barça onslaught on their area, although the home side were lacking the speed and definition to turn their dominance into further goals.
Busquets was outstanding, Sergi Roberto and Xavi were feeding balls from all angles, and Alexis, Neymar and Pedro were all getting involved with spectacular bicycle kicks and all the works. The worrying thing, however, is that it wasn't until the 39th minute that they finally found the net a second time, with Neymar starting the move and Pedro finishing it off.
Moments later came the play of the match. Some wonderful first touch football among the midfielders ended with the ball reaching Alexis, who subtly chipped it through to Montoya. The defender could have shot himself, but instead laid on a perfect assist for Neymar. There had only really been one team on the pitch in a first half that ended 3-0.
The Neymar Show
Neymar's first ever goal in the Champions league was just the boost he needed. In the second half, he scored another peach of a goal on the back of yet another terrific combination move. For the rest of the game, Barça restrained themselves from showboating too much, knowing that this has cost them dearly in the past and that one of the most important aspects that they need to improve is holding onto leads.
But there was little chance of tonight's lead slipping away. On a freezing evening, the Camp Nou was soon chanting the name of Neymar as he went on to complete his first hat-trick in a Barça shirt. It was yet another move initiated by a flash of genius from a defender, followed by a delightful one-two to make it 5-0. A rare Barça attempt at a long ball, by Mascherano, almost led to Neymar getting his fourth of the night, but Pedro was caught offside and the move was invalidated.
See you in February!
Tello marked his return to the team by grabbing the sixth and final goal of the night with a shot that rebounded off a defender and left Forster with no chance. But it was thanks to the Celtic keeper that Neymar failed to add any more goals to his account. As the game drew to a close, we finally started seeing a bit more life in Celtic, with Samaras heading home a consolation goal and coming close to adding a couple more. But by this stage, Barça's biggest heroes of the night, Busquets and Neymar, were already resting on the bench. The Camp Nou gave both the ovation they deserved and was able to celebrate qualification for the last sixteen as group leaders. The Champions League returns in February, and on Monday, Barça will be finding what team they'll be playing.