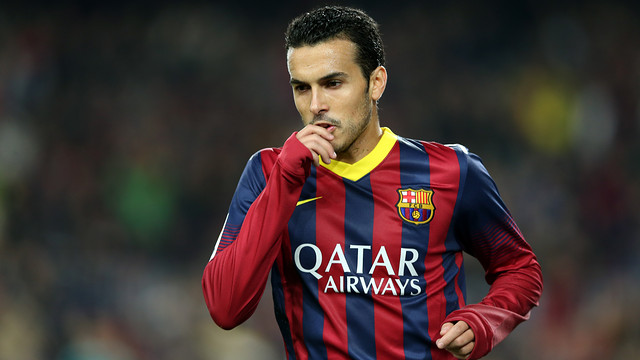 Barça qualify for the 1/8 round of the Copa del Rey after defeating Cartagena at the Camp Nou
Pedro (min 30), Mariano (og) (min 67) and Neymar (min 88), scored for the Blaugrana
The Diada del Soci Solidari (Club Member Solidarity Day) was a complete success as 47,280 filled the Camp Nou, and the team put in a reaffirming performance. Barça came into the match with a 1-4 advantage from the first leg in Cartagena, and Gerardo Martino's competitive line-up earned passage to the next round thanks to the final 3-0 scoreline.

The visitors come close
The team wanted to please the fans in the stands, but their accuracy was just a bit off against a defensive and organised Cartagena. The visitors had nothing to lose, their only objective was finish with an honourable scoreline. They neutralised attempts from Tello (min 3), Adriano (min 15) and Neymar (min 20) and they managed to hit the woodwork on two occasions before the half hour mark.
Pedro scores
Immediately after Cartagena's failed attempts to score, Pedro fired Barça ahead. The forward one-timed the ball into the back of the net after a cross from Montoya. Cartagena piled men into the center of their defence, but Barça found space out wide. The 1-0 didn't change the flow of the match, but it did give Barça a bit of tranquility. The Catalans continued to threaten Cartagena's goal, but their accuracy was a bit lacking.

Control and pace
Tata Martino's men continued to lay siege to Cartagena's goal in the second half. Despite only one goal on the scoreboard, the fans made themselves felt in the Camp Nou. They started the wave on numerous occasions while Barça dominated on the pitch. Cartagena stayed true to their original game plan: two lines made up of five and four players waiting in front of their area.
The second goal of the night was scored on minute 67. A cross from Tello was deflected into the back of the net by the onrushing Mariano. With the tie secured, Martino sent out Iniesta, Alexis and Jordi Alba. The midfielder connected with Neymar, who headed the ball in for the third and definitive goal of the night on 88 minutes. Barça will face Getafe in the next round of the competition.