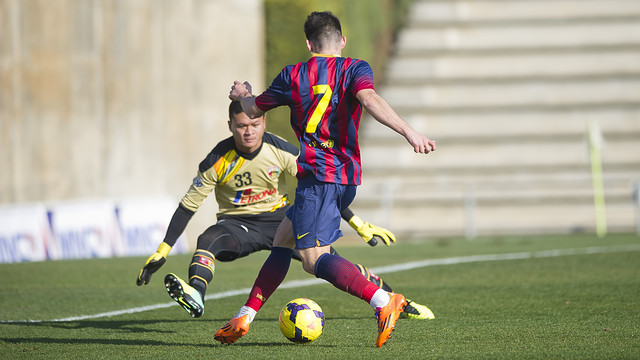 Eusebio's men defeated Mitra Kukar FC in a friendly hosted at the Ciutat Esportiva Joan Gamper
Goals from Munir (2) and Denis Suárez (2) secured the win for Barça B

MATCH FACTS
FC Barcelona B: Bañuz, Godswill, Ilie, Joan Román, Adama, Babunski, Pol Calvet, Tarín, Munir, Lucas i Ros. També han jugat: Sergi Gómez, Patric, Planas, Espinosa, Bagnack, Samper, Denis Suárez i Sanabria.
Mitra Kukar FC: Dian, Fadhil, Reinaldo, Zilkifli, Jean, Bima Sakti, Hendra, Rafael, Silvio, Gavin kwan i Zulham Zamrun.
Goals: 1-0 Munir, min 8'; 2-0 Munir, min 32'; 3-0 Denis Suárez, min 74'; 4-0 Denis Suárez, min 85.
Referee: Àlex Fernández Pérez
Comfortable victory for Barça B this Wednesday at the Ciutat Esportiva Joan Gamper against Mitra Kukar FC. The match, which was part of the Indonesian team's tour of Spain – they've already played against Atlético Madrid, Villarreal, Valencia and Espanyol – was won thanks to goals from Munir (2) and Denis Suárez (2).
Controlled start
The Blaugrana were quick to take control of possession and they soon started creating chances on Mitra Kukar FC's goal. Juan Román on the left and, especially, Adama Traoré on the right created a constant flow of opportunities for Barça B.

Brace for Munir
After only eight minutes, Munir scored the opener with a powerful shot from just outside the area after receiving an assist from Adama. The match was being dominated by Barça and on 32 minutes Munir got his second, who was once again assisted by Adama. The teams went to the break with the 2-0 on the scoreboard.
Open second half
Eusebio sent in Dani Nieto and Bagnack at the start of the second half. The visitors pressured Barça B high up the pitch and they created a couple goalscoring chances. Eusebio responded by sending in seven new players (Patric, Denis Suárez, Sanabria, Planas, Samper and Espinosa) and Barça B slowly regained control of the match.
Denis Suárez closes out the game
Denis Suárez scored his first goal on 74 minutes after a great team effort which saw the newly signed Barça B player fire to the back of the net after a back-heel assist from Juan Román. Denis Suárez got his second after a cross from Patric.