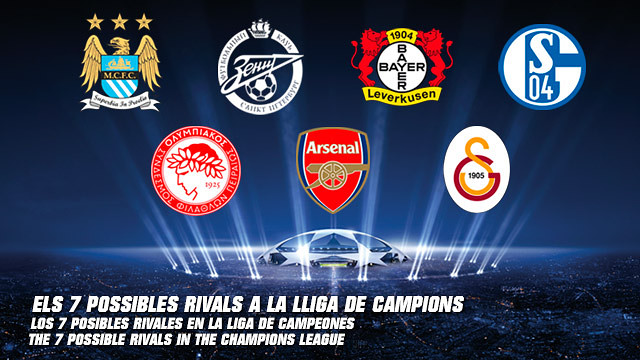 Barça will be handed their knockout round rival on Monday at noon
Manchester City, Zenit, Bayer Leverkusen, Schalke 04, Olympiacos, Arsenal and Galatasaray, are Barça's possible rivals
Manchester City, Zenit, Bayer Leverkusen, Schalke 04, Olympiacos, Arsenal or Galatasaray. One of these teams will be Barça's rival in the knockout round of the Champions League. The draw will be held on Monday at noon in Nyon. What Barça do know is that they will play the first leg of the tie away (18/19 or 25/26 of February) and the second leg at home (11/12 or 18/19 of March).
This draw is only for the Round of 16. Here's an overview of the teams Barça could face in the next round:
Manchester City: There has never been an official match between the two teams. This is the first time City have qualified for this round of the Champions League.
FC Zenit: Barça have never featured against the Russian team. They haven't progressed past the first knockout round in the Champions League.
Bayer Leverkusen: The Germans have faced off against Barça in the knockout round in the 2011/12 edition of the competition. Barça defeated Bayer by an aggregate score of 10 to 2. The Germans have defeated Barça twice, tied once and lost five times to the Catalans.
Schalke 04: Barça faced off against the German team in the quarter-finals of the 2007/08 Champions League. Barça won the tie thanks to two 1-0 victories.
Olympiacos: Despite Barça's many travels to Greece, they have never faced off against the Greek team in an official match.
Arsenal: The Gunners and Barça have featured against each other many times in Europe. The most memorable was in the Champions League final in Paris in 2006, which was won by Barça.
Galatasaray: Between 1993 and 2003 Barça faced off against the Turkish team four times, always in the Champions League group stage. The Blaugrana always progressed to the next round.