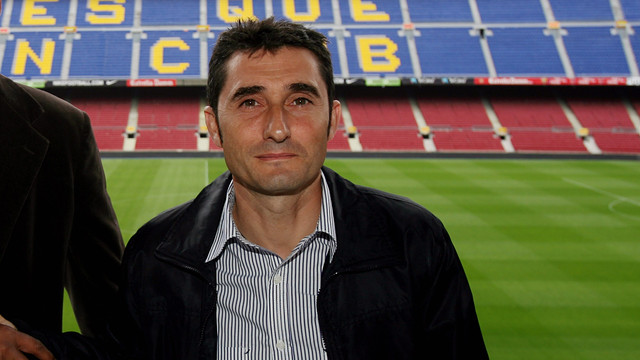 Les curiositats que envolten un autèntic Clàssic de la Lliga en un escenari nou i amb un entrenador, Valverde, que va jugar al Barça fa 25 anys
Since 1915, every Athletic Bilbao home match against Barça has been at the old San Mamés. But on Saturday, there will be a brand new venue as the long history of games between these clubs continues:
Barça played 100 official matches at the old San Mamés, alongside which the new venue is located.
---
Barça's first game at San Mamés was a friendly on January 31, 1915. It ended 1-1, with the legendary Rafael Moreno 'Pichichi' scoring for the home side and Mallorquí for the visitors.
---
Athletic, Barça and Real Madrid are the only three clubs to have played in every one of the 83 Spanish league Championships contested to date.
---
The famous 'lame man's goal' was invented at an Athletic v Barça match on May 29, 1955 when Basque defender Canito was injured in the 25th minute of a cup tie at San Mamés. Playing out on the left wing, in the 50th minute he defied his physical limitations to go on a dribbling run and stick the ball past goalkeeper Ramallets.
---
Current Bilbao manager Ernesto Valverde played for Barça between 1988 and 1990. He played 55 games and scored 22 goals.
---
Athletic have not beaten Barça since the 2005/06 season.
---
Right back Andoni Iraola has played the most minutes of the season so far (1.260). Tata Martino's most used player has been Dani Alves (945 minutes).