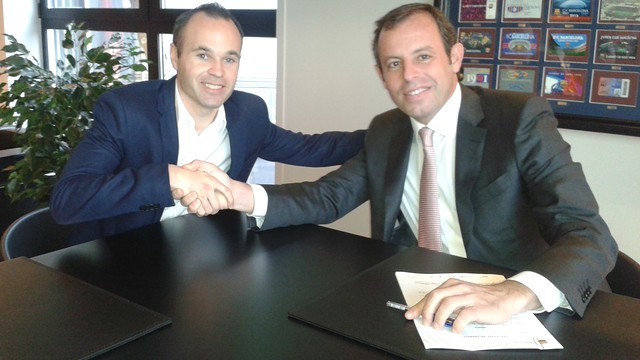 Iniesta, president Rosell and vice-president Bartomeu have signed the extension to the player's contract until June 30, 2018
On Monday at midday, Andrés Iniesta signed a new contract binding him to FC Barcelona until June 30, 2018. The event took place in the Club offices, where the midfielder was joined by president Sandro Rosell, and the vice-president responsible for the Sports Area, Josep Maria Bartomeu, as well as director of sport Andoni Zubizarreta and the player's agent. On such a special day, Andrés Iniesta was also joined by his parents and daughter Valeria.
From 2017/18, his contract will be automatically extended provided he has appeared in a certain number of matches over the course of the season just ended.
29 year old Iniesta was due to end his contract in 2015. This extension until 2018 means the FC Barcelona midfielder will have spent more than half of his life on the club's books. He first arrived in 1996 at the age of just 12, and if he does indeed stay until the end of the present contract, when he'll be 34, he will have been at FCB for 22 years.