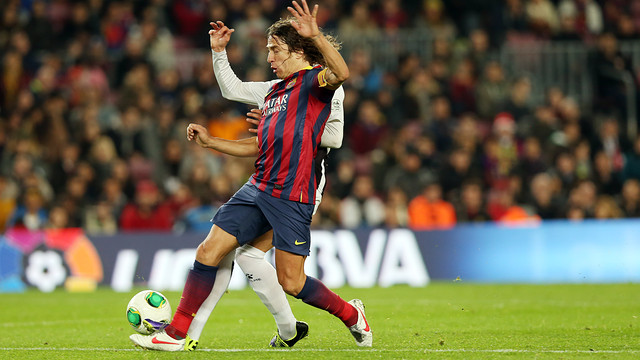 Puyol hadn't played at the Camp Nou since the 4-0 win against AC Milan last season
Montoya has started seven of the last eight games and Sergi Roberto three of the last four
Against Cartagena, Tello played his first game of the season
Barça's 3-0 win over Cartagena to reach the last sixteen of the Copa del Rey produced a number of interesting facts. Here are some highlights:
Carles Puyol played his first game at the Camp Nou for nine months. Injury has prevented him from appearing in any official games since the 4-0 win over AC Milan on March 12.
But he marked his comeback by winning more balls than anyone, 12. Cesc Fàbregas topped the passing with 115.
FC Barcelona kept their twelfth clean sheet of the season so far, although this was the first shutout for five games.
This was the sixth consecutive win for FCB in return legs of the Copa del Rey round of 16. The previous victims were Alavés (3-1), l'Hospitalet (1-0), Ceuta (5-1), Cultural Leonesa (5-0) and Benidorm (1-0). The last time they failed to win was in 2007/08 against Alcoyano (2-2).
Neymar's goal made him the first player of the season to have scored in four competitions. In fact, no other player will be able to equal his record, as the Brazilian was the only goalscorer in the Spanish Supercup, which is already over.
Neymar's excellent form continues. That's six goals in his last three games to take his season total to eleven.
Full back Martín Montoya has started seven of the last eight first team matches. The first leg against Cartagena was the only game he started on the bench.
Meanwhile, Sergi Roberto has started three of the last four matches.
Cristian Tello played his first complete match of the season on Tuesday night. He hadn't been in the first eleven since the home fixture against Valladolid last October (4-1), before getting injured.