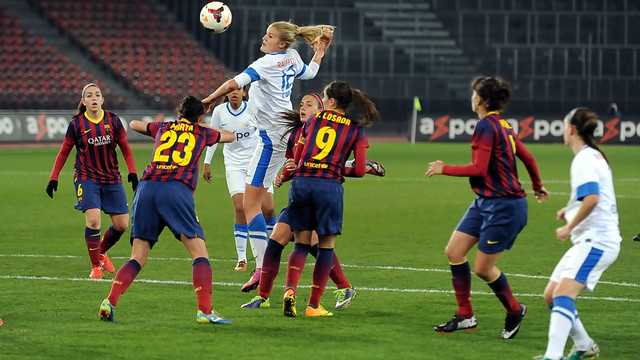 The team managed by Xavi Llorens qualify for the first time for the quarter-finals of the UEFA Women's Champions League
Goals from Ruth, Corredera and Jelena overturned the initial goal from the Swiss side
The draw for the quarter-finals and semi-finals of the Champions League will take place on November 21
MATCH FACTS
Zürich Frauen, 1
FC Barcelona, 3
Zürich Frauen: Studer, Brütsch (Selimi, min 46), Keller, Remund, Kiwic, Zehnder, Fischer, Sow (Herzog, min 75), Bernet, Humm, Baumann (Terchoun, min 67)
FC Barcelona: Ràfols, Unzué (Laura, min 55), Melani, Romero, Miriam, Vicky (Sònia, min 41), Corredera (Andrea, min 70), Ruth, Alexia, Jelena, Torrejón
Goals: 1-0, Zehnder (min 24); 1-1, Ruth (min 36); 1-2, Corredera (min 64); 1-3, Jelena (min 81)
Referee: Anastasia Pustovoitova (RUS)
FC Barcelona's women's team continue blaze their way into the history books. This Wednesday, in Switzerland, the Blaugrana knocked Zürich Fauen out of the UEFA Women's Champions League and reached the quarter-finals of the competition. This is the first time that a team from the Spanish league has made it this far in the Champions League.
The team managed by Xavi Llorens came into the match in Zurich with qualification to the quarter-finals nearly secured. On Sunday, Barça defeated their Swiss rivals by 3-0 at the Miniestadi. This Wednesday, knowing that qualification was close, Barça were calm even though they conceded the first goal of the match. Goals from Ruth, Corredera and Jelena were enough to overturn Zürich Fauen's opener and push the tie beyond the Swiss team's reach. The draw for the next phase of the competition will take place on November 21, and Champions League play will resume in March.
1-1 at the break
Zürich Fauen started with an urgent and incisive approach to the match. As time ticked off the clock however, they found it hard to create goalscoring chances. But an unfortunate play on 24 minutes gave way to the opening goal of the match. Zehnder reached the end line and crossed, that's when Barça center back Torrejón deflected the ball into the back of her own net. It was back luck for the Blaugrana, but they still had a two-goal cushion before overtime would be forced.
It soon became evident, however, that overtime wasn't on the cards. Barça fired back after only ten minutes. A corner taken by Alexia found its way to Ruth, who headed in the equaliser.
Corredera and Jelena seal the deal
Zürich Fauen didn't have a chance in the second half. Barça took control of the game and they started to create chances. Corredera scored the 1-2 a little over the 20-minute mark before full time. Ten minutes later, Barça scored their third thanks to a good play between Sonia and Jelena.
FC Barcelona are the first team in Spanish football to reach the quarter-finals of the Champions League, a truly historic feat.