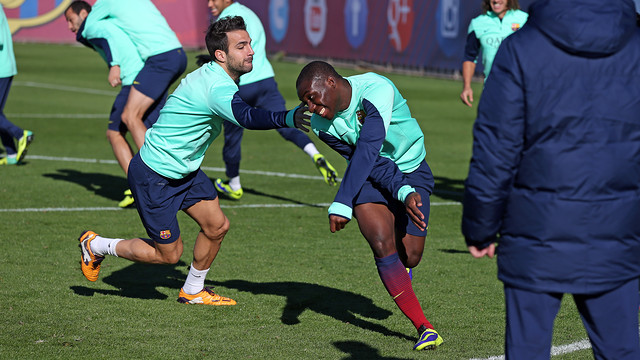 Tata Martino, who has 16 first team players available to play this Saturday against Granada, has called up Adama and Dongou
Xavi and Tello are out, and added to the list of absentees through injury: Valdes, Messi, Jordi Alba, Alves, Dos Santos and Afellay

Squad list
Pinto, Montoya, Piqué, Fàbregas, Puyol, Pedro, Iniesta, Alexis, Neymar Jr, Mascherano, Bartra, Sergio, Song, Adriano, Sergi Roberto, Oier, Adama (28) and Dongou (29).
Manager Tata Martino has called up 18 players for Saturday's League match against Granada at the Camp Nou (16.00). The list includes 16 first team players, including Cesc Fabregas and Gerard Pique. The central defender and midfield player both received the medical all-clear after training and have been selected. Also selected in the squad are Dongou, the B Team forward, and Adama, from the Youth Team.
Although Martino gets back Cesc and Pique, this Saturday he will be without Xavi and Tello. The Terrassa player is unavailable due to persisting discomfort of the hamstring in his right leg. As for Tello, he has continued his recovery over the last few days from the sprained ligaments in his right ankle. The forward will miss the next two games and his return will be determined by how his recovery evolves. Both these players are added to the list of absentees through injury of Valdes, Messi, Jordi Alba, Alves, Dos Santos and Afellay. Isaac Cuenca has not been called up, for technical reasons.
This Friday morning the team had their final training session before playing against Granada on Saturday. The squad will gather tonight at the Hotel Princesa Sofia.