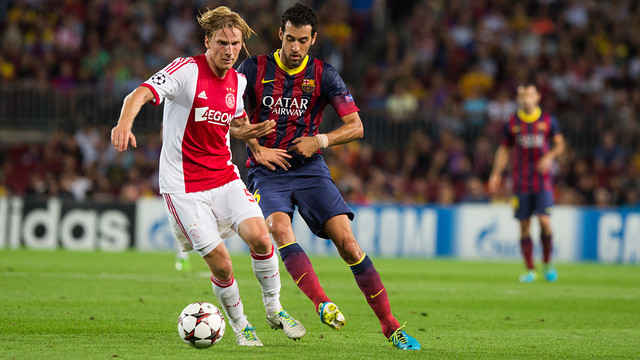 It's FC Barcelona's first match ever against Ajax at the Amsterdam Arena in official competition
Cesc Fàbregas is one yellow card away from suspension, and if he picks one up against Ajax he'll miss the final group game at home to Celtic

This Tuesday Ajax and FC Barcelona will play each other in the 5th group match in the Champions League. Here you can find some of the most interesting facts surrounding the match.
Alexis misses the match as he's suspended after picking up 3 yellow cards in previous games.
An FC Barcelona win would mathematically guarantee first place in the group for Tata Martino's team.
Cesc Fàbregas is one yellow card away from suspension, and if he picks one up against Ajax he'll miss the final group game at home to Celtic.
The first group game this season in the Champions League was against the Dutch outfit, and Barcelona won 4-0.
The FC Barcelona top scorer in the Champions is Leo Messi with 6 goals. Busquets, Fàbregas and Piqué have also all scored in this season's competition.
Ajax are currently lying second in the Dutch League with 25 points, 2 points behind leaders Vitesse.
Xavi is the current Barcelona leader in goal assists, with 2. Fàbregas, Busquets, Alexis, Neymar, and Iniesta have also provided goal-scoring passes.
It's FC Barcelona's first match ever against Ajax at the Amsterdam Arena, in official competition
The Referee for the match is the Czech Pavel Kralovec, 36 years old and an International Referee since 2005, and he has never officiated in a Barcelona match. He has refereed Ajax just once, a match they lost.