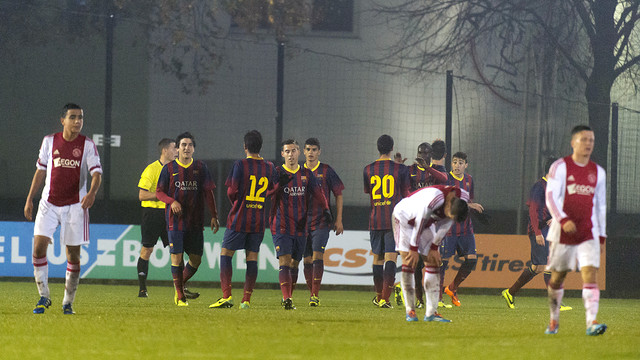 The Youth A team saw off Ajax with a convincing 0-4 win to ensure top spot in Group H with a game still to play
Moha, Enguene, Munir and Rolón were on target for Barça who claimed their third away win of the group stage

STATS
Ajax, 0
Juvenil A, 4
Ajax: Mous, Lartey Sanniez (Andeson min 81), Van Bruggen, Mirani, Owusu, El Ghazi (Becker min 75), Riedewald, El Mahdiaoui, Vissers, Kishna and Acolatse (Menig min 66)
Juvenil A: José Aurelio Suárez, Godswill, Riera, Quintillà, Enguene (Ortega min 77), Huertas, Rolón (min 84, Juanma, Godoy (Munir min 68), Ros and Moha
Referee: Sergejus Slyva (LIT)
Goals: Moha (min 2), Enguene (min 26), Munir (min 69) and Rolón (min 83)
Goals from Moha, Enguene, Munir and Rolón helped Barça's Youth A side clinch top spot with a game to spare in Group H of the UEFA Youth League with a 0-4 win in Amsterdam on Wednesday. After seeing off Celtic (1-2) and Milan (2-6) on their last two trips, tonight's win was Vinyals' third on the road in the group stage, which with the 1-1 draw against the Italians and the 4-1 win over the Dutch at the Camp Nou, gives them 13 out of a possible 15 points.
Control and goals

Moha put Barça one up after just two minutes, winning the ball in midfield and powering forward to fire past the keeper. Ajax were pressing Barça high up the pitch and making it tough for Barça to break out, but after a tough first 15 minutes, the visitors began to control the game and on 26 minutes Enguene put away a great cross from the left by Moha to double the lead.
José Aurelio Suárez denied Ajax an opening goal just before the break with a great stop from a Kishna free kick.
Moha the star

Ajax again came up against the Barça keeper after the break, when he pulled off another brilliant save from Riedewald who shot from close range.
It was Moha who was the real star for Barça though, with two crosses for Munir (min. 69) and Rolón (min 83) providing the goals that sealed a place in the last 16 – to be played at the Mini in February
Jordi Cardoner with the team

The FC Barcelona xice-president Jordi Colomer was at the game to give his support, as were Narcís Julià and Pere Gratacós.