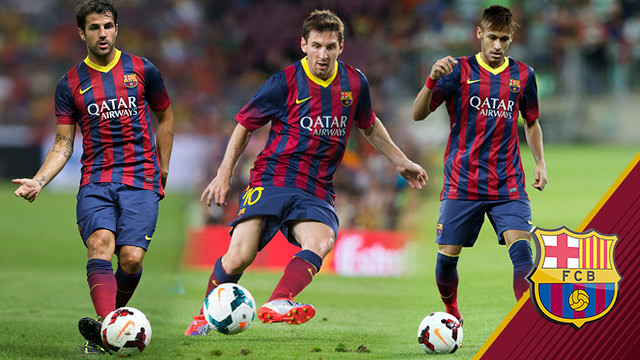 The three players are the first, fifth and sixth assist leaders in the league, respectively
Neymar Jr, Leo Messi and Cesc Fàbregas are three of the top six assist leaders in La Liga. After 12 rounds, the Brazilian forward leads the pack with seven assists, while Messi is fifth and Cesc is sixth (both with four assists apiece). In addition to these 15 assists the three players have scored a total of 15 goals.
Koke, Cani and Suso
Three players separate Neymar Jr from Messi and Cesc in the standings. They are Koke (Atlético Madrid), with six assists, and Cani (Villarreal) and Suso (Almería), with five assists apiece.
Besides Barça, no other team have more than three players in the Top 10 assist leaders in the competition. Real Madrid have two players, Bale (4 assists) and Cristiano Ronaldo (3).
In addition, it's worth noting that FC Barcelona are the highest scoring team in La Liga, with 34 goals. They are also the team that have conceded the least amount of goals (7).