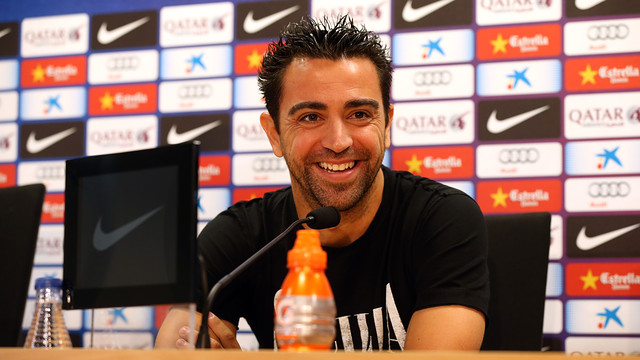 "The team's philosophy is untouchable and nonnegotiable. That was Tata's message to us on his first day" says the midfielder
He adds that "I feel even more important and participative than before"
The main topic of Xavi Hernández's press conference at Friday lunchtime was the Barça style of play. And he had some strong opinions on the subject, as the following quotes show.
1." The team's philosophy is untouchable and nonnegotiable. That was Tata's message to us on his first day".
2. "There are no internal debates going on. We know how we're playing and the ideas are set".
3. "We have a clear philosophy: to play attractive football, on the attack and achieve our targets. We have never thought of changing our style".
4. "I am fit, I'd even say I'm covering more kilometres than before. We're playing good football. Maybe not as brilliant as in other years, but we have not veered from reality, and that's good".
5. "Iniesta and me are fine, we're both fully fit. My role hasn't changed at all. The footballing idea hasn't changed, neither has the system. In fact, I feel even more important and participative than before".
6. "We know what the demands are. We want to recover the excellence of other years, but it's sometimes hard. But the dynamic is the same and there's room for improvement".
7. "What do we need to improve? Sometimes we should be more the protagonists, extend our possession… We have to find our mistakes and correct them".
8. "We accept the criticism, but the style hasn't changed. We go out to get the ball in their half, that's not playing on the counter attack. We try to be the protagonists".
9. "There are times when we feel really good, playing great football, like in the first half against Milan. But we have to play like that for the full ninety minutes".
10. "Such big demands are a challenge that we relish".