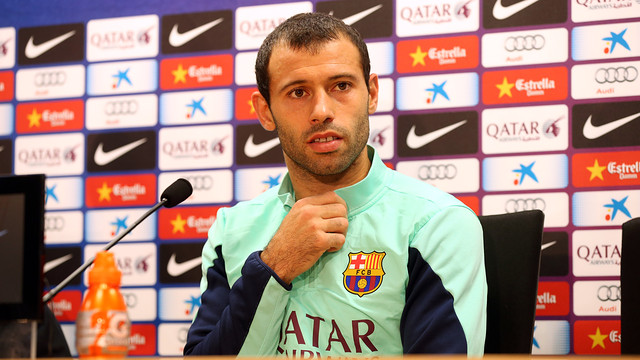 "Unfortunately, we've had some injuries but that's why you have a big squad", the Argentine explained
"Messi is the best player I've seen in my life and certainly the best I'll ever see"

Javier Mascherano gave a press conference on Thursday and spoke about the rash of injuries that has hit the Club and about the upcoming award of the Golden Ball. We sum up his comments in ten phrases.
"Unfortunately, we've had some injuries but that's why you have a big squad. Everyone in the first team is ready to play. You notice the absences but that's what we're here for".
"Víctor (Valdés) is very important. Not just for what he represents. He was in excellent form. Now we need to support Pinto, who always responded. He's got a lot of experience and works all year to get his chance. Now he's got it".
"I've played a lot with Pinto. In my opinion, he's improved a lot in the last few years with the ball at his feet and he's had some magnificent performances".
"I don't know if Messi has played too much. Fate has put him in this position and the best thing he can do is stay calm and get better. It happens to all of us".
"Messi is the best player I've seen in my life and certainly the best I'll ever see. He's got a gift".
"I don't pay much attention to the Golden Ball debate. I'm so far away from it. I'll be happy when Leo wins".
"I'm nobody to pass judgement on the decision of FIFA to extend the voting period for the Golden Ball. I focus on playing. I can't vote but I wouldn't change the decision in the last fortnight".
"Bartra is a great player. It's not easy to play for Barça at the age of 20 and he has shown great maturity in playing when it hasn't been easy. We're here to seize our chances and he's been quite clear on that. Given his age, he hasn't hit a ceiling yet and that will depend on how far he wants to go".
"Alexis is having a very good season, with Barça and with Chile. He's unleashed himself, which is what was missing in order to show the daring he had in other teams".
"Whichever goalkeeper comes here, he'll face the pressure of playing at this Club. He'll have to fight for his place and comparisons are odious. We can't compare him with Víctor".