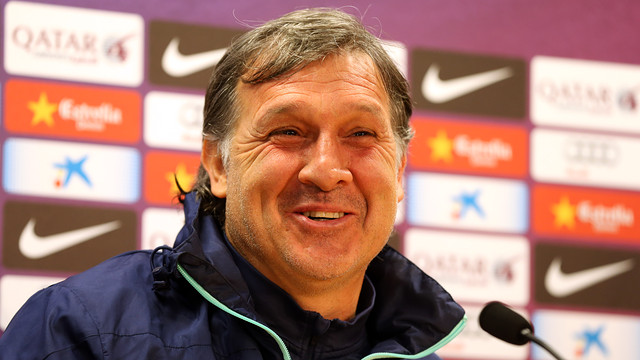 "The absence of players is always unfortunate, and now we're missing the best goalkeeper in the world" said Martino, who has called up Dongou and Adama due to the long list of absentees
"Neymar's response has been superb right from the start. He's also shown that he has the capacity to withstand the pressure" Martino said

Gerardo Martino appeared at a press conference this Friday to talk about Saturday's match against Granada (16.00). The Argentinian coach wanted to make it clear that, despite the missing players, Barcelona will be very competitive against the Andalusian outfit. "It's a tough match against a team like Granada. The players missing are very good, and those who were at training too", stressed Martino. "We shouldn't be thinking too much about the missing players, but in those who are taking their places" he added.
Pinto is ready
Questioned about Valdes' absence, who he considers to be the World's best goalkeeper, Martino said that with Pinto the team has also won."The absence of players is always unfortunate, and now we're missing the best goalkeeper in the world…Pinto will play and we need to keep winning" Martino said. "I don't have any reason to believe we will be weaker, and at times these unexpected situations can make you stronger" he added.
[[CITA_1]]
In addition, Martino said that Neymar is perfectly capable of handling the pressure brought by the absence of Messi. "Neymar's response has been superb right from the start. He's also shown that he has the capacity to withstand the pressure" he said about the young Brazilian, who is only 21 years old. Also, he spoke about Marc Bartra, who has now made his debut with the Spanish National team. "Bartra now sees things differently than at the beginning of the season. He's been doing very well, and probably the fact that we didn't bring in another central defender has helped in his improvement and he has done very well every time he has played".
Finally, Martino spoke about the debate over the Golden Ball: "It's not something that worries us much. It seems to be a nice opportunity to get on well with players" he said smiling.
Bartra ja té una mirada diferent a la del principi de temporada. Ho està fent molt bé