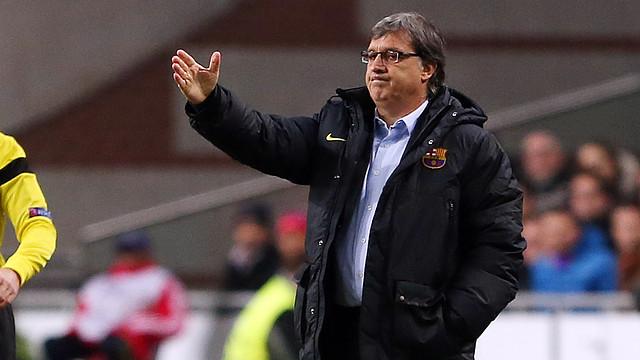 The Barça boss insisted: "in a Champions League game against a side who is playing for qualification to the knock out stage, you have to be full on for 90 minutes"
Milan win
Milan stay second, one ahead of Ajax and two behind Barça after beating Celtic 0-3 in Glasgow. Kaká, Zapata and Balotelli. got the goals for the Italians which sets up an all or nothing final group game at the San Siro against Ajax, with Celtic definitely out of the running.
Tata Martino fell just short of beating the 21 game unbeaten record set in 2011/12 season. After tonight's defeat against Ajax, the boss insisted his side had lacked intensity during the first 45 minutes and also explained: "Ajax came out more fired up and it wasn't easy for us. It was a different matter in the second half – we played more like what we expect from Barça"
Martino felt: "our problems came more when we had the ball than when we were without it- we were lacking mobility and precision" and went on: "in a Champions League game against a side who is playing for qualification to the knock out stage, you have to be full on for 90 minutes".[[CITA_1]]
"We all have to reflect on this and think about the difference in intensity we saw out there. We came with classification certain and Ajax were still fighting to get through, but we can't allow ourselves to play like we did in the first half". The boss also reckons that : "self-criticism is always useful and if this group of players has one thing , it is that self-awareness. The defeat has come at a moment where it doesn't damage us as much as it might have and it will allow us to look back at what has happened".
"In a Champions League game against a side who is playing for qualification to the knock out stage, you have to be full on for 90 minutes"