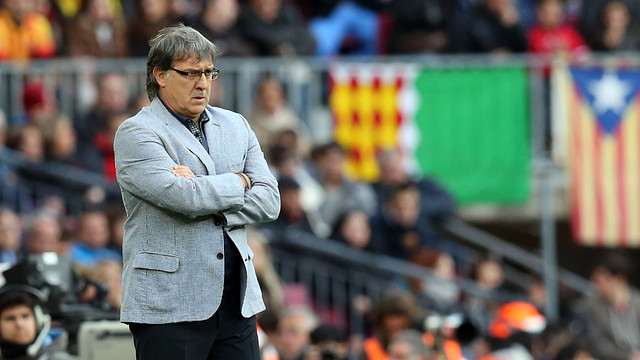 The boss praised the whole team for their performance today: "I saw a good Barça and I think the fans enjoyed themselves"
Martino again insisted that the injury absences "are no reason not to play well and to win"
Gerardo 'Tata' Martino spoke to the media in his post match press conference and was full of praise of his players after their 4-0 win over Granada, insisting that "we controlled the pace of the game, knowing when we had to play more directly and when we had to slow the match down. This side know how to play in different ways when they need to. We have a commitment to play attractive football and I think the fans enjoyed themselves today".
The team's first two goals both came from the penalty spot, with Iniesta taking the first and Cesc the second – a switch that Martino explained "it was the players who decided – I didn't get involved". Although he praised the whole team, Martino was especially pleased with the performance of Iniesta: "he was the best and he did everything really well".
Sergi Roberto gets game time
The boss also explained the thinking behind giving Sergi Roberto fifteen minutes in the second half "my idea of him as a player isn't connected to the number of minutes he plays and today he settled in well with the rhythm of the game".
Neymar failed to score today, but his overall performance. with an assist, clearly pleased the boss who explained "Neymar can play really well as a false number 9 – it's a good option". Pinto made his debut this season against Granada and Martino was happy with the keeper's game, explaining: "He's always responded well when he's had to play. Today he had two dangerous situations and he dealt well with them perfectly".
Granada – a demanding rival
Turning to today's opponents, Martino believes: "Granada want to play the ball around and if you don-t press these teams well, you can have problems"., whilst echoing his before the game that the injury absentees : "are no reason not to play well and to win".