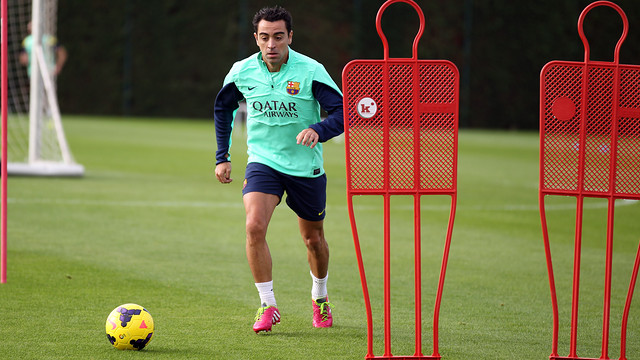 Tata Martino led today's session for Puyol, Xavi, Pinto, Oier, Tello, Montoya and Cuenca, the only players available from the senior squad
Cesc and Piqué followed their owns workout routines while Messi continued with his own fight back to fitness

After a two-day break, the few members of the squad still available for training here in Barcelona – Puyol, Xavi, Pinto, Oier, Tello, Montoya and Cuenca – exercised under the watchful eye of Tata Martino at the Ciutat Esportiva Joan Gamper. Eleven players have been called away on international duty while the remaining members of the squad are sidelined by injury.
On Wednesday, Cesc and Piqué continued their treatment for knee ligament and groin problems respectively. Meanwhile, Leo Messi focussed on his own fight back from injury.
Finally, Adriano trained alone on Tuesday and was given permission to miss today's session in order to deal with some personal matters.