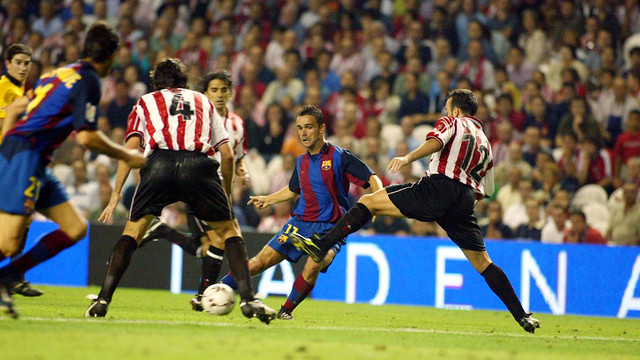 Nine great games in Bilbao: Basora, Pujol, Maradona, Stoichkov, Jordi and Messi were among the stars of some memorable encounters at San Mamés
Sunday brings yet another meeting between Athletic and Barça, two of just three clubs that have never been relegated from the Spanish first division. Matches between the two are steeped in history and rivalry, with plenty of goals and anecdotes to look back on. Here we pick out nine of the most memorable:
1930/31: Biggest win ever (12-1)
On February 8, 1931 Athletic Bilbao got a sublime 12-1 victory over Barça at San Mamés, and that was against a fine FCB squad that featured players of the calibre of Zabalo, Martí, Castillo, Piera, Sastre, Goiburu, Arnau and Parera. Earlier on in the season, Barça had beaten defending league champions Bilbao 6-3 to go just one point off the top of the table. So, what happened? This game came at the time of a heated dispute between the Barça players and the directors of the club, and the team decided that they would make their protest by 'not trying'.
---
1934/35: Spectacular comeback (3-5)
A game between superpowers on March 31, 1935 at San Mamés. Barça fielded an eleven of Francás, Rafa, Alcoriza, Pedrol, Berkessy, Lecuona, Ventolrà, Raich, Escolà, Ramon and Pagés and overcame the traditional fury of the 'Lions' to come back from 2-0 down to 3-2 up in the space of four minutes with goals from Ramon (26), Berkessy (27), Raich (29). Raich later got a second and Escolà also scored to ensure a famous victory for Barça.
---
1951/52: The team of the Five Cups breaks the curse (0-3)
The Barça of the Five Cups rewrote the record books. That incredible side captained by Ladislau Kubala put an end to the curse of San Mamés, where they always said Barça suffered from an inferiority complex. All those troubles were laid to rest on January 6, 1952 thanks to a sensational 3-0 win with goals from Basora (2) and Vila and an extraordinary display by Antoni Ramallets, who became the first goalkeeper ever to keep a clean sheet for Barça against Bilbao in a league match. Curiously, the great Kubala was injured and didn't play that day.
---
1969/70: Iríbar beaten at last (1-1)
José Ángel Iríbar was Athletic's legendary goalkeeper from 1963 to 1980. At San Mamés, Barça could find no way past him. It took a whole decade, right through to January 18, 1970 for Barça to score against Iríbar at the Cathedral. Lluís Pujol was the man to do it by slamming home a Rexach corner that was nodded his way by Alfonseda. It had taken 590 minutes and five Liga matches and one in the Cup for Barça to finally see Iríbar picking the ball out of the back of the net.
---
1983/84: Maradona brace in times of rivalry (1-2)
Menotti's Barça won at the Cathedral at a time, the early eighties, when the rivalry between the two teams was at one of its peaks. It had been against the Basques that both Schuster and Maradona had suffered serious injuries due to the antics of the infamous 'Butcher of Bilbao', Goikoetxea. On January 29, 1984, the Argentinian scored twice against a young goalkeeper who is now on the Barça staff, Andoni Zubizarreta. But despite FCB's win, Athletic still went on to claim a league and cup double.
---
1990/91: Six of the best for the Dream Team (0-6)
Barça's biggest ever win at the old San Mamés came in the days of the Dream Team. With manager Johan Cruyff absent because of his heart operation, Stoichkov was the star of the show with four goals, the third of which came after a famous run from one end of the pitch to the other. Bakero and Salinas completed the rout.
---
1994/95: A win for Europe (0-2)
Barça travelled to the Cathedral on the final day of La Liga at risk of failing to qualify for Europe. Goals from Begiristain and a spectacular strike from Jordi Cruyff won the game for the visitors to finish fourth and qualify for the UEFA Cup.
---
2003/04: Rijkaard era begins in Bilbao (0-1)
Dutchman Frank Rijkaard's first game on the Barça bench was at San Mamés. The only goal of the game was scored by Cocu after 11 minutes following a cross from the right by his compatriot Van Bronckhorst.
---
2012/13: Farwell draw at San Mamés (2-2)
Barça's last ever game at the old San Mamés was last April 27 and ended two-each. Tito Vilanova's side could have mathematically clinched the league title that day, but were a little distracted by their imminent Champions League semi-final against Bayern. Athletic went ahead through Susaeta, but two second half goals in three minutes from Messi (who was returning from injury) and Alexis turned the game around. However, a last minute goal from Ander Herrera meant it ended all-square)
.