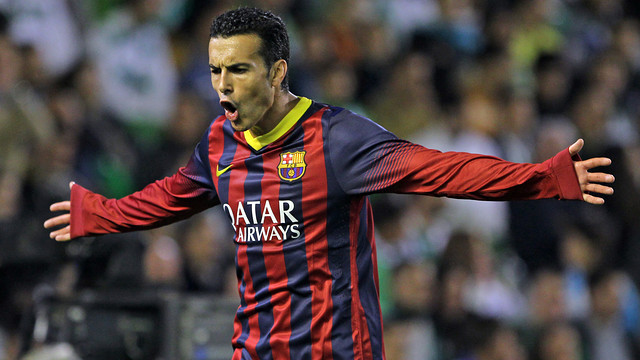 Neymar, Pedro and Cesc (2) score to put Barça three points ahead of Atletico Madrid
Barça stretched their lead at the top of La Liga with a 1-4 win at the Benito Villamarín tonight. Goals from Neymar and Pedro in the first half and a brace from Cesc after the break mean Gerardo Martino's side go into the international break with yet another win under their belt and a three point cushion over second place Atletico Madrid, who were held to a 1-1 draw in Villarreal. This wasn't as straightforward a win for Barça as the score might suggest though, with a brave Betis side never giving up and the worrying sight of Leo Messi limping off in the first half.
Heroic Valdés
With Atletico's game finishing before the match in Seville began, Barça knew that a win would put them in the perfect position going into the international break and give then the psychological edge the coach had demanded earlier in the week. However, it was Betis who created the chances early on, with the excellent Victor Valdes saving the day with two great stops from Jorge Molina and Juan Carlos, as the team struggled to deal with the loss of Messi – replaced by Iniesta on 20 minutes.
Two quick goals
Once Valdes had done his job, it was the turn of the rest of the players to lift the team and a defence splitting pass from Song put in Cesc, who laid on Neymar's opener. Just a minute later, Pedro made it two after breaking through the Betis defence to shoot past the keeper.
Cesc brace
The goals took the wind out of the home team, who even when they could make some chances again after the break came up against Bartra – who put in a perfect performance – and unluckily for them, the woodwork, which Juan Carlos rattled with a powerful effort. It wasn't Betis' day though and their tactical decision to try and chase the Barça midfield just gave Pedro, Neymar Jr and Cesc space to exploit.
It was just a matter of when rather than if the third goal came and finally –after Neymar had missed a great double opportunity on the break – Cesc was set up by Montoya down the left to fire home, doubling his tally soon after with a header from a pinpoint Alves cross from the other flank.
With the game safe, Martino gave Tello and Sergi Roberto some game time and in injury time Betis managed a consolation goal from the penalty spot through Jorge Molina after Alves brought down Matilla, but with the three points secure and their lead extended, it wasn't enough to spoil the win for Martino's Barça.