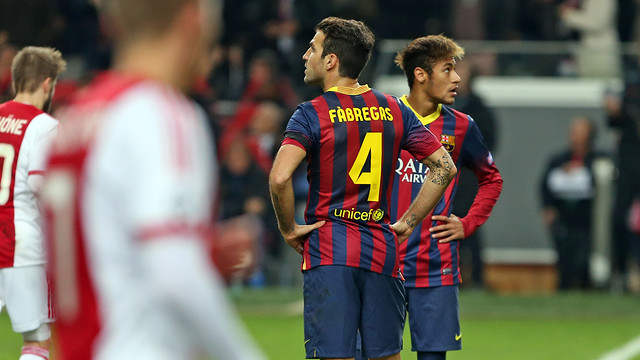 Barça lose 2-1 to Ajax and will need at least a point against Celtic to ensure they top the group
FC Barcelona's first defeat of the season came after an unbeaten run of twenty-eight matches. It was Ajax who inflicted the first defeat on Gerardo Martino since he has been on the Barça bench. The Dutchmen went 2-0 up in the first half, but a red card for Veltman and a converted penalty for Xavi could have changed the match at the start of the second. But despite pressing hard for an equaliser, luck was not on FCB's side tonight at the Amsterdam Arena and it all ended 2-1.
The team will now have to wait until December 11 for another chance to top the group. They need at least a point against Celtic to be sure of keeping AC Milan at bay.
2-0 at half time
The home side came out with more intent. FC Barcelona struggled to gain possession of the ball and it was Ajax who were creating most of the danger. They were finally rewarded in the 19th minute when Van Rhijn sent a low cross to Serero who was waiting in the area to convert.
Barça improved after the Ajax goal, and Neymar came closest to scoring, but just when they finally seemed to have settled into their normal game, Hoesen pounced on a rebound off Pinto to extend the Dutch side's lead.
Penalty, red card and 2-1
A lot changed after the break. A sloppy back-pass from Van Rhijn was exploited to the full by Neymar, who broke free into the Ajax area and probably would have scored had he not been brought down by Veltman. The Ajax defender was red carded for his efforts, and Xavi, who was missing against Granada, stepped up to take the penalty. He made no mistake from the spot, and Barça had 40 minutes against ten men to make up for their first half shortcomings.
Young guns
And the visitors certainly had enough chances to turn the game around. The best fell to Neymar, but the goals just didn't want to come. Ajax defended well, and not even the decision to throw Piqué into attack managed to break them down.
The positive note of the final quarter of an hour was the changes made by Tata Martino. He sent on Patric Gabarrón for his first team debut and gave further run-outs to Sergi Roberto and Adama Traoré after the latter made his debut last weekend against Granada.
Barça have already qualified, so the defeat is no disaster by any means, but the players will be disappointed not to have made sure of top spot in the group. Meanwhile, despite this famous victory, Ajax will still have to win at the San Siro in order to join FCB in the last sixteen.