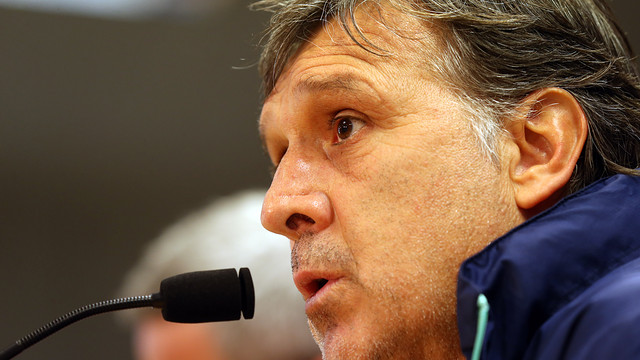 "I have always considered Ajax to be a very good team that works well with its youth system", says Martino
The Argentinian says that "I know we are up against a very difficult opponent that could finish second in the group"
Gerardo Martino has spoken in the Amsterdam Arena pressroom about Barça's Champions League game with Ajax on Tuesday night. Tata knows that a draw would be enough to secure top spot in the group, but will only be happy if he brings home all three points. "We aren't thinking about anything other than winning", he said. On his problems putting together a defence, he commented that "I'll either play a centre back as full back, or I'll field Patric from the start. Those are my options for the full back places".
Committed to a system
Despite the amazing series of results, Martino still thinks Barça can do better. "We have a commitment to aesthetics that we have to uphold" he said. "Good results alone aren't enough. We have to win while also doing all we can to play more convincingly, in keeping with the excellence required of this club." The Argentinian added that "the next game is always the most important; you can never look any further ahead than that".
Well structured club
As for the opposition, Ajax Amsterdam, managed by Frank de Boer, Martino commented that "I have always considered Ajax to be a very good team that works well with its youth system … I know we are up against a very difficult opponent that could finish second in the group".
Martino is also aware of the many parallels between Ajax and Barça: "Looking at old Ajax pictures, you remember that they are the ones who created the Barça style. The two clubs have many connections and the Ajax academy had a lot of influence on the one we have at Barça today" he observed.
Missing the best
The manager was naturally asked how he is coping without Leo Messi, and has to admit that it is a difficulty. "If you were playing against Barça, you'd be pleased to know he's not in the team" he said. "But luckily we have a very strong squad at Barça and with the players we have, there is no room for excuses. At Barça, you have to accept it when players are missing and the best way to do that is by going out there and playing a good game."