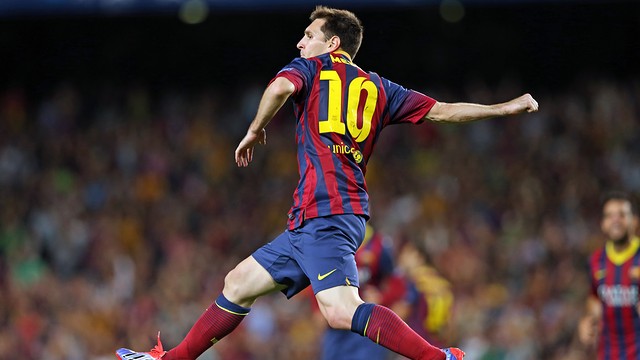 Saturday marks the tenth anniversary of the Argentinian's first team debut in a friendly against Porto
He didn't start an official match until 2004 and since then has gone on to score 327 goals for Barça

395 games and 327 goals. There is no doubt that Leo Messi's stats are staggering. There is no player like him and there will probably never be a player like him ever again.
Messi made his Barça debut on November 16, 2003 in a friendly against Porto, although he'd have to wait until October 16, 2004. In ten seasons, the Argentinian has gone on to make 395 appearances (57 in La Liga and 82 the Champions League, among others), scoring 327 goals, making him the club's all-time highest scorer in official competitions. Paulino Alcántara scored 357 goals, but that incudes friendlies.
The amazing thing is that he is still only 26 years old, and has plenty of time to add to his trophy count with Barça and Argentina and extend his goalscoring record to stratospheric proportions. Here we look back at the striker's all-time stats, such as the number of goals he has scored at the Camp Nou or on the road, the assists he has supplied and the number of games he has played in each competition.
| | | | | | | | | | |
| --- | --- | --- | --- | --- | --- | --- | --- | --- | --- |
| | AGE | TOTAL MATCHES | LIGA MATCHES | UCL MATCHES | CUP MATCHES | OTHER MATCHES | TOTAL GOALS | GOLS AT HOME | ASSISTS |
| 2004/05 | 17 | 9 | 7 | 1 | 1 | 0 | 1 | 1 | 0 |
| 2005/06 | 18 | 25 | 17 | 6 | 2 | 0 | 8 | 5 | 3 |
| 2006/07 | 19 | 36 | 26 | 5 | 2 | 3 | 17 | 9 | 2 |
| 2007/08 | 20 | 40 | 28 | 9 | 3 | 0 | 16 | 11 | 12 |
| 2008/09 | 21 | 51 | 31 | 12 | 8 | 0 | 38 | 14 | 17 |
| 2009/10 | 22 | 53 | 35 | 11 | 3 | 4 | 47 | 25 | 11 |
| 2010/11 | 23 | 55 | 33 | 13 | 7 | 2 | 53 | 31 | 21 |
| 2011/12 | 24 | 60 | 37 | 11 | 7 | 5 | 73 | 47 | 24 |
| 2012/13 | 25 | 50 | 32 | 11 | 5 | 2 | 60 | 28 | 18 |
| 2013/14 | 26 | 16 | 11 | 3 | 0 | 2 | 14 | 9 | 4 |
| TOTAL | | 395 | 257 | 82 | 38 | 18 | 327 | 180 | 112 |