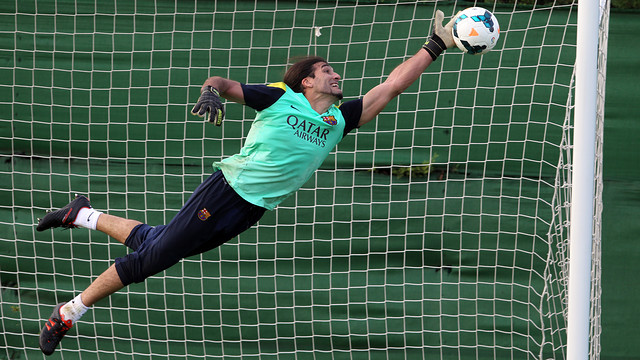 The Spanish keeper has made 21 league appearances since he joined FC Barcelona in 2008, including 6 clean sheets
He's made 38 appearances in the Spanish Cup and four in the Champions League

José Manuel Pinto has made over 60 competitive appearances in goal for FC Barcelona since 2008. The 38 year-old keeper signed for the Club to replace the injured Albert Jorquera in January 2008. Since then, he's lived in the shadow of Víctor Valdés but has always been ready to play when needed. 63 matches and 53 goals conceded.
On Saturday against Granada, Pinto will make his competitive debut for the season and will start the next eight matches if Tata Martino so decides. Up to now, he's played 21 league matches (1890 minutes).
Six clean sheets
Pinto has kept 6 clean sheets in 21 BBVA League matches and conceded just 23 goals. He's saved 72.3% of shots on target, a figure which climbed as high as 89% in the 2011/2012 season.
Pinto has made 60 saves in these 21 matches in six years. In his 38 Spanish Cup appearances he's conceded 28 goals but none in his four CL matches.