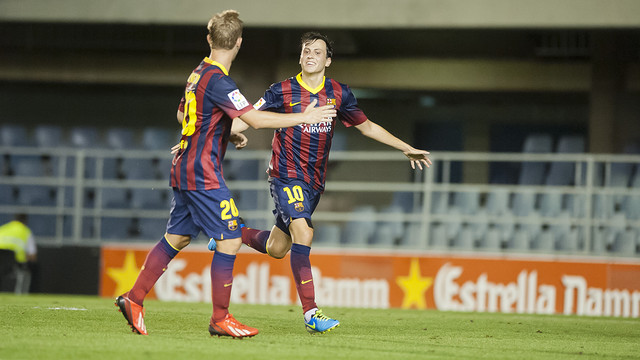 Barça B have won away to Girona, with Jandro's opener for the home side cancelled out by strikes from Espinosa and Jandro Castro
The three points won on the road are a major boost for confidence and lift the team out of the relegation zone

MATCH STATS
Girona F.C., 1
FC Barcelona B, 2
Girona F.C.: Becerra, Ramalho (Chando, m.70), Migue, Chus Herrero, David Garcia, Timor (Pere Pons, m.75), Eloi, Juanlu, Gerard Bordas (Jofre, m.73), Jandro & Felipe Sanchón.
FC Barcelona B: Masip, Patric, Ilie, Bagnack, Planas, Samper, Edu Bedia (Denis Suárez, m.80), Espinosa, Dongou, Dani Nieto (Pol Calvet, m.85) & Tonny Sanabria (Sandro, m.90).
Goals: 1-0, m.27, Jandro; 1-1, m.32, Espinosa; 1-2, m.63, Edu Bedia
Referee: González Fuertes (Asturias), with linesmen Villabeirán Souto & Somocueto De la Torre. Yellow cards for Ramalho (m.7) , Chus Herrero (m.55), Eloi Amagat (m.67) of Giron and Edu Bedia (m.9), Patric (m.73) of FCB B.
Venue: 3,882 spectators at the Montilivi.
FC Barcelona B gave their morale a major boost on Saturday with a 2-1 win at the Montilivi in Girona. Jandro Castro put the home side ahead in this Catalan derby, but Barça B bounced back thanks to Javier Espinosa and Edu Bedia.
The points will do the team no end of good, and get them out of the relegation zone, but more importantly, after straight defeats to Eibar, Numancia and Jaen, the B team players seem to have found their game again, and this bodes well for future encounters.
Espinosa reacts
With U21 internationals Sergi Gómez and Babunski away, Eusebio Sacristán made four changes to his previous starting eleven. Barça B didn't start strongly, but did manage a few half chances, particularly one for Ilie and a couple of shots from Dongou.
Girona, led by Jandro Castro, looked to surprise on the counter attack. And they did just that when the Asturian found the net by beating Masip with a shot from inside the area. But the reserve team kept their heads up, and were soon back on level terms after Dongou rounded two defenders and skilfully supplied an assist to Espinosa, who struck the ball home at the far post.
Edu Bedia gets second
The second half began with a powerful strike from Timor and Gerard Bordas hitting the post to excite the home supporters, but Barça were looking more decisive and completed the comeback through Edu Bedia, with a long range strike that found the corner of net, way beyond the reach of home keeper Becerra.
There was still half an hour to go, but Barça B controlled their lead with impressive efficiency. Denis Suárez, Pol Calvet and Sandro all came on as subs to help their team to an important win on a rainy evening at the Montilivi.