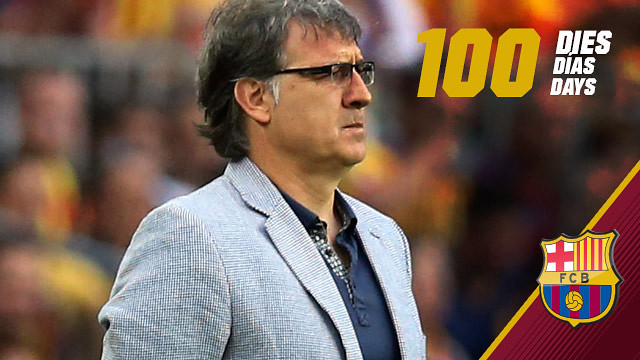 The new manager's stats clearly relfect the amazing form of the FC Barceloan first team
Saturday marks 100 days since Tata Martino arrived on the FC Barcelona bench, and here we look back at what he had achieved in that time.
153. The number of seconds Barça 2013/14 needed to score their first official goal. It was converted by Alexis, in what would turn out to be a 7-0 thumping of Levante.
1. The number of titles the Argentinian has already won at FCB, and the only one he could have possibly won at this stage of the season. It was the Spanish Supercup, claimed by beating Atletico Madrid, although his team are also top of La Liga and their Champions League group.
0. Number of defeats. So far he has accumulated 13 wins and 4 draws and has yet to experience what losing a game with FC Barcelona feels like.
41. Number of official goals in 17 outings. That's an average of 2.4 goals a game.
10. The number of FC Barcelona clean sheets this seasons. Atletico Madrid in the second leg of the Supercup, Ajax and Celtic in the Champions League and Levante, Malaga, Rayo, Almeria, Osasuna, Celta and Espanyol in la Liga all failed to score against FCB.
21. Players used so far by Tata Martino. The only members of the squad that have yet to get a game have been Pinto, Oier, Cuenca and the injured Afellay.
17. Number of games played by Víctor Valdés, the only player that Tata Martino has started in every match.
1331. Number of minutes played by Gerard Piqué in 15 of the 17 games to date, making him the most used outfield player under the new coach.
11. Messi, Piqué, Pedro, Alexis, Xavi, Neymar Jr, Cesc, Alves, Bartra, Busquets and Adriano are the eleven different players who have already scored this season.
37. The number of press conferences given so far by Martino. His first was on July 26 for his presentation and his last was on Friday after the game with Espanyol. 23 have been in La Liga (where managers usually speak both before and after matches), six in the UCL, four in the Supercup and three more after the games in Asia and the Gamper. He only missed one conference in the league when he was absent following his father's death, and was replaced on September 20 by his assistant, Jorge Pautasso.