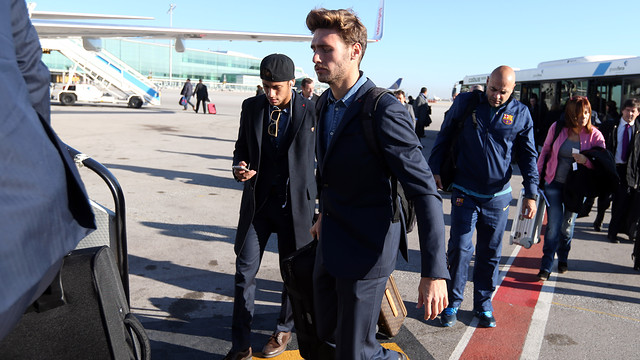 The FC Barcelona expedition, led by president Sandro Rosell, is off to the Netherlands for Tuesday's game with Ajax Amsterdam
On Tuesday, FC Barcelona will be facing Ajax at the Amsterdam Arena in the fifth game of the Champions League group stages. Tata Martino is travelling with a squad of 19 players, including Xavi, who has been declared fit, and reserve team players Adama, Dongou, Sergi Gómez and Patric.
The team are being joined by president Sandro Rosell, plus vice presidents Jordi Cardoner and Carles Vilarrubí, and directors Jordi Moix, Pilar Guinovart, Jordi Mestre, Javier Bordas, Manel Arroyo and Josep Ramon Vidal-Abarca.
Training at the Amsterdam Arena
With FC Barcelona's flight to Amsterdam landing at 12.30, the plan is for the squad to go directly to their hotel and rest until 19.00, when they have a training session in the Amsterdam Arena. Previously, at 18.15, the manager will be giving a press conference along with goalkeeper Jose Manuel Pinto.
Institutional activity
There are a number of associated events involving FC Barcelona in the Dutch city. In the evening, there is a supper being organised by the Penya Blaugrana Amsterdam to be presided by Pau Vilanova, director in chief of the FC Barcelona Social Commission.
On Tuesday, institutional vice president Carles Vilarrubí will be giving a lecture at the Amsterdam Faculty of Humanities titled "Barça, Sport, Culture and Education." There will also be the traditional meal for the directors of the two clubs, and at 15.30 there will be a gathering of Barça supporters in Nieuwmarkt square.