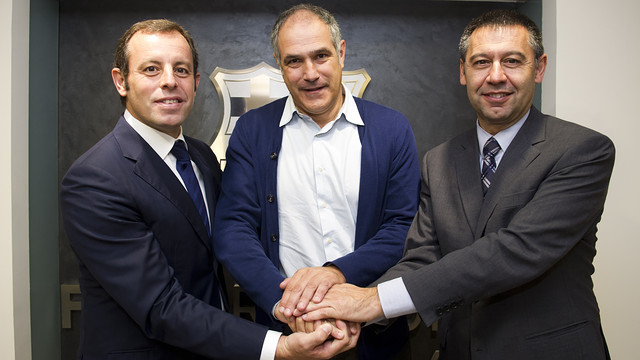 The club and its director of sport have decided to extend their contractual relationship until June 30, 2016
The new contract will be signed over the next few days
Andoni Zubizarreta will be staying on as director of football until the end of the 2015/16 season after terms were agreed for the extension of his contract on Thursday November 7. His present contract is due to expire at the end of June 2014, but he'll now be staying on an additional two years until June 30, 2016.
He will be signing his new contract over the next few days.
Fourth season
This is the fourth season that Andoni Zubizarreta has been director of football at FC Barcelona, a time in which he has witnessed the departure of Pep Guardiola as first team manager at the end of the 2011/12 season, and the selection of Tito Vilanova as his replacement. Due to his illness, Tito was forced step down as manager at the end of last season, and he was duly replaced by Tata Martino, who has got off to a tremendous start. Barça are unbeaten in all competitions, sitting proudly on top of la Liga, already through to the last sixteen of the Champions League and also having collected their first silverware, the Spanish Supercup.
Adriano was the first signing of the Zubizarreta era. That season, 2010/11, also brought the arrivals of Javier Mascherano and Ibrahim Afellay, the latter during the winter transfer window. The following season, Cesc Fàbregas and Alexis Sánchez were signed, and in the first year under Tito Vilanova the club welcomed Jordi Alba and Alex Song. The latest player to be signed by FCB was Neymar Jr at the start of the present season. Zubizarreta is to be thanked for his prominent role in all of these transfer processes.