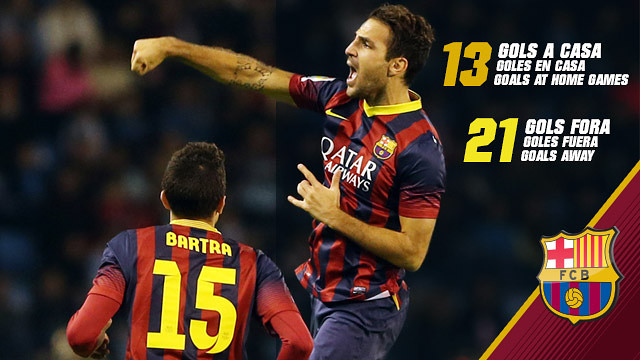 61.8% of his goals for FC Barcelona have been scored away from the Camp Nou
More than half of his assists were given during game played away from home

Cesc, Tuesday at 13.30 on Facebook
It's worth noting that Cesc will answer questions from fans on FC Barcelona's official Facebook page this Tuesday. Questions must be tagged with #askCesc.
Cesc is proving to be lethal away from the Camp Nou. Stats from FC Barcelona's midfielder show that he's exceptionally accurate in front of goal when Barça play away from home: he's scored 21 of his 34 goals for the first team away from the Camp Nou, that's nearly 62% of his total goals. This figure is better than Messi, Pedro and Alexis' goal percentages. In fact, most players score more goals at home than they do on the road.
Only on the road
But this isn't the case when it comes to Cesc as he's netted five times this season… all of them on the road. He scored at Vallecas (0-4), Celtic Park (0-1), Balaídos (0-3) and, a week ago, twice at the Benito Villamarín (1-4).
This is partly due to the fact that Cesc is usually in the starting line-up when Barça play away from the Camp Nou. The Catalan has started every league match away from home, he only started on the bench at the Calderón (Spanish Super Cup) and at the San Siro (Champions League).
56.8% of assists given away from home
Cesc's case is a strange one, because not only has he scored more goals away from home but he also has given more assists. Of the 37 he's given since he signed for Barça, 16 were given at the Camp Nou and 21 away from home. Of particular note is the match Barça played away to Deportivo last year (4-5), when he gave assists in one match.