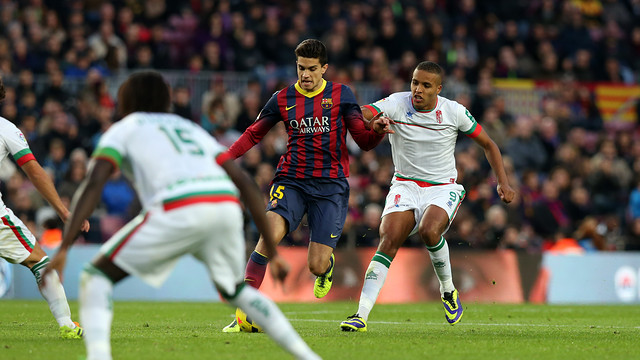 The young centre back stressed the coach's confidence in his players "he told us despite the players out, we had to push on"
Despite a long injury list, Barça chalked up their 15th win of the league. something Marc Bartra – who played a full 90 minutes – put down to the fact that : "we were really good, we were in control throughout".
Bartra echoed his boss in insisting that the injuries couldn't be used as an excuse: "Tata told us despite the players out, we had to push on". One of the youngsters drafted in, Adama, made his debut today and Bartra claimed: "I'm really happy for him – it shows that the Barça academy is the best in the world".
Looking to the midweek game in Amsterdam, Bartra admitted:"I'm excited about playing".
Iniesta, captain and goalscorer

Iniesta captained the side today and scored his first goal of the campaign, though as he explained afterwards: "being captain wasn't the most important thing. The best of all was the way I felt we played out on the pitch".
Iniesta also spoke about the injury problems:"those of us who are here have to look after ourselves. When we get round to April and May, we need us all to be fit".